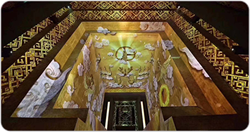 We are grateful to be involved in the design, installation and commissioning of digital projections for some of the most outstanding exhibits in this museum. Christie's outstanding and reliable laser phosphor projectors are best suited for these exhibition areas.
CHANGSHA, China (PRWEB) February 27, 2018
Christie®'s longstanding Chinese partner Wincomn Technology has brought ancient Han Dynasty history to life with spectacular projections using Christie visual solutions at the newly renovated Hunan Museum.
Over 40 Christie 1DLP® laser phosphor projectors have been installed to deliver bright and dynamic projections at various exhibition zones in the museum, which is located in the city of Changsha. The main highlight is China's first tomb projection at the famous Mawangdui (or King Ma's Mound) archaeological site that houses the tomb of Lady Dai (wife of the Marquis of Dai) dating back to more than 2,000 years ago. The impressive visuals have been made possible using 14 projectors comprising HS Series and GS Series models strategically installed around the 17-meter-deep trapezoidal-shaped pit grave.
Another mesmerizing showcase is the highly immersive dome theater projection based on ancient astrological works unearthed from the Mawangdui archaeological site. Known as the Divination of the Five Planets, the silk-written manuscripts contained highly accurate astrological records based on the observation of the five planets (Venus, Jupiter, Mercury, Mars and Saturn). The full dome facility is illuminated by 12 Christie DWU850-GS projectors equipped with BoldColor Technology for the most life-like images and natural color reproduction, and provides 20,000 hours of low-cost operation.
Visitors at the exhibition zone titled "People of Hunan Province" can also check out stunning imagery using Christie projection on a curved screen/sand table and three-sided wall, known as "Homeland" and "Dare to Call a New Day" respectively. Elaborately set up with overhead deployments of Christie DWU599-GS and Christie DWU700-GS laser phosphor projectors, the exhibits illustrate the rich history, as well as social and cultural developments within the province.
"Hunan Museum is home to some of the most precious cultural and historical relics in China, including artifacts from Mawangdui that dates back to the western Han Dynasty," said Tony Chen, general manager, Wincomn Technology. "We are grateful to be involved in the design, installation and commissioning of digital projections for some of the most outstanding exhibits in this museum. Christie's outstanding and reliable laser phosphor projectors are best suited for these exhibition areas. The projections serve as a bridge that connects visitors with ancient culture and history, enabling them to create a deeper emotional resonance."
Lin Yu, Vice President, Christie Asia Pacific, added, "In modern society where technology is constantly evolving, the display of cultural assets has become more diversified. The use of digital projections can certainly augment the showcase of China's history and cultural heritage. I'm therefore pleased that Christie laser phosphor visual solutions are playing an important role at Hunan Museum in enabling visitors to remember the past and look forward to the future through these mesmerizing visuals."
The ancient tomb of Lady Dai is unequivocally the most popular exhibit in the museum, as well as the most challenging installation from a technical standpoint. According to Chen, lighting up the entire tomb measuring 19.5 meters long, 17.8 meters wide and 17 meters deep was a tremendous engineering feat. A total of 14 laser phosphor projectors, comprising 12 Christie D13WU-HS and two Christie DWU700-GS, were installed to deliver outstanding visuals at this site.
Engineers from Wincomn Technology used 3D modeling and UV mapping to determine the exact location of each image, since all 14 projectors had to be installed in a "concealed" manner at different angles as requested by the museum. In this way, the visuals can be projected accurately on all surfaces. At the same time, Wincomn's engineers had to overcome the challenges of irregular blending, as well as ensuring the synchronized playback of visual contents.
The visuals of this highly-immersive dome theater are driven by 12 Christie DWU850-GS laser phosphor projectors deployed around the venue. With its small footprint, quiet operation, and 20,000 hours of operation, the Christie DWU850-GS is best suited for such environments.
People of Hunan Province - "Homeland" Exhibit
This amazing exhibit features immersive visuals projected on a curved screen using five Christie DWU700-GS laser phosphor projectors. Another two DWU700-GS projectors are deployed overhead for projections on a circular-shaped sand table positioned in the center of the exhibition area.
People of Hunan Province - "Dare to Call a New Day" Exhibit
This exhibition area showcases the history and development of Hunan Province using a three-sided wall projection accomplished with eight ceiling-mounted Christie DWU599-GS laser phosphor projectors that filled the entire space with vibrant visuals.
The Christie GS Series eliminates the need for lamp and filter replacements, providing 20,000 hours of low-cost operation. Wireless connectivity, a small footprint, low-weight, quiet operation and a full suite of lenses make them ideal for boardrooms, conference rooms, education, houses of worship and other small and medium venues. On the other hand, the Christie HS Series is the world's brightest 1DLP laser phosphor projector boasting up to 13,500 lumens in WUXGA and HD resolutions, with Christie BoldColor Technology for a premium viewing experience, taking color accuracy and image quality to the next level.
About Christie
Christie Digital Systems USA, Inc. is a global visual and audio technologies company and a wholly-owned subsidiary of Ushio Inc., Japan (JP:6925). Consistently setting the standards by being the first to market some of the world's most advanced projectors, complete system displays, and cinema audio solutions; Christie is recognized as one of the most innovative visual technology companies in the world. From retail displays to Hollywood, mission critical command centers to classrooms and training simulators, Christie display solutions and projectors capture the attention of audiences around the world with dynamic and stunning images, accompanied by awe-inspiring sound. Visit http://www.christiedigital.com.