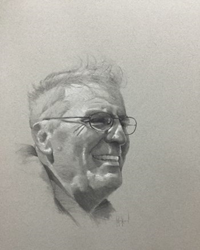 If you do nothing else, simply listening to Ken's voice will leave you feeling more at peace.
LEADVILLE, Colo. (PRWEB) February 26, 2018
When Alligator Preserves Podcast host Laurel McHargue asked Ken McLeod for an interview visit on her show, he said he'd think about it. Thinking, deeply thinking, is something upon which McLeod has built his reputation in the Tibetan Buddhist practice community over the past several decades.
"We're going to have to edit some of these questions," he told McHargue after she sent him a list of possible topics. "And that's when I knew he would be a guest on my show," she said. "He was visiting a mutual friend in Leadville, and I was fortunate to catch him after a couple of days of hard skiing."
After discussing the repercussions of the California wildfires that came within two miles of his home, McLeod talked about meeting his first teacher in India, Kalu Rinpoche, in 1970. After studying with him for a year and learning of his teacher's decision to move to the West, McLeod "ended up as his translator." With the most basic of tools for learning the Tibetan language, he was successful, though one high lama told him, "You sound like a book."
McLeod's interest in eastern philosophy took hold while attending university. "It was the '60s, you see, and I'd become quite disillusioned with a career in academia," he said. "That's what you did in those days," he said of his decision to travel and learn about a different way of life. "In my generation, almost all the people who went to India and sought out teachers . . . were looking for some kind of mystical knowledge or experience . . . ."
His ability to translate Eastern philosophies for Western minds was crucial for his work in Los Angeles in the '80s. "People in Los Angeles don't have time to do five-hour ceremonies on a regular basis," he explained, adding that Tibetan practices can be quite complex.
At the end of their visit, McHargue asked McLeod to offer one practice for listeners to implement immediately. "And if you do nothing else, simply listening to Ken's voice will leave you feeling more at peace," said McHargue.
To listen to the full episode in which McLeod tells stories from Tibetan lore and expands on what he has learned from his years of study and instruction, go to Alligator Preserves Episode 9: A Visit with Ken McLeod.
Ken McLeod has taught and translated Tibetan Buddhist practice in the Los Angeles area and has authored several books about his experiences with Buddhist practices. in his retirement, he is working on his most challenging book to date on Vajrayana. Find out more about McLeod and watch the first in a series of his videos on Vajrayana at Vajrayana in Modern Times.
Laurel McHargue is an author, blogger, and host of the podcast Alligator Preserves. Find her show notes with links and photos of this episode and others on her website at leadvillelaurel.com. If you would like to become a patron of her show, find out how on her site at Patreon.