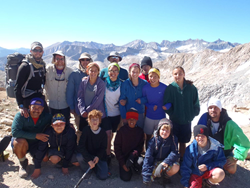 ORINDA, Calif. (PRWEB) February 24, 2018
TSX Challenge, the San Francisco Bay Area-based organization that creates inspirational backpacking challenges for all ages, has launched the Mt. Whitney Youth Challenge, a series of 8-night, 9-day, 75-mile educational treks across Sequoia and Kings Canyon National Parks. The Mt. Whitney Youth Challenge will enable up to 100 students age 11-17 to summit Mt. Whitney in 2018 and 2019.
There are "summer camps" – and then there is camping in the summer, while backpacking across the Sierra over the course of a week to the summit of the tallest mountain in the contiguous US, Mt. Whitney (14,505 feet). Making that journey as a junior high or high school student can be a life-changing experience, but access to Mt. Whitney is highly restricted and expensive for most youth to access.
TSX Challenge co-founder Chris Casado said the organization aims to enable access and inspire more youth with the launch of the Mt. Whitney Youth Challenge.
"My first ever overnight backpacking trek more than 20 years ago as a high school freshman was to the summit of Mt. Whitney. When you reach the summit and look back at what you just accomplished, you realize you can do anything you put your mind to," said Casado.
The Mt. Whitney Youth Challenge is modeled after similar backpacking treks led by Clovis, CA educator and TSX Challenge co-founder Mike Murphy.
"Over the last 25 years, I've led hundreds of kids across the Sierra to the summit of Mt. Whitney, including over 120 students exiting the 5th grade. There is nothing more rewarding than seeing the face of students and adults alike who complete this trek and realize what they can now accomplish," said Murphy, who has stood atop Whitney 45 times.
Educational Program
"We've held a Commercial Use Authorization (CUA) permit in Sequoia and Kings Canyon National Parks since 2011. In late 2017, after securing renewal through a competitive selection process, we were encouraged by the park service to develop a package for offering educational trips. In response, we developed the Mt. Whitney Youth Challenge," said Casado.
Each outing will use the remote wilderness of Sequoia and Kings Canyon National Parks as the setting for a week of hands-on education focused on History and the Environment, Leave No Trace, and Life Skills.
Academic goals of the program will be centered around environmental education, and include:

History of Sierra exploration and forces driving evolution of wilderness stewardship;
Implementation of best practices to minimize wilderness degradation, including Leave No Trace;
Appreciation of Sierra diversity including ecology, geology, and flora over elevations traversed;
Stimulate critical thought on environmental, water and land management issues facing Sierra;
Instill confidence for future safe and self-reliant experiences in the outdoors with life skills including how to purify water, start a stove, prepare food, pitch a tent, manage a campfire, and more.
Application Process and Scholarship Opportunity
Three Mt. Whitney Youth Challenge treks are scheduled for this summer: July 13-21, July 20-28, August 10-18. Students must be between the age of 11 and 17 on August 31, 2018 to be eligible for participation. Adult family members or chaperons are encouraged, but not required, to accompany minors on the experience.
Each trip costs $1,500 per person and includes all food, major gear and group equipment. Optional transportation is coordinated from select Bay Area, Southern California and Central Valley locations. Up to twenty $500 scholarships are available for students from Title 1 Schools.
To join a Mt. Whitney Youth Challenge, online applications must be received by March 15th, 2018. Notifications of conditional acceptance will begin March 19th, 2018. A note of recommendation from a teacher, coach or youth leader highlighting the student's character, physical fitness and academic commitment will be required for final acceptance.
Inspiration For A Lifetime
Each Mt. Whitney Youth Challenge will follow a trans-Sierra route across the Sierra to the summit of Mt. Whitney. Outings will travel from west to east and include a crossing of the Great Western Divide. Over the course of a week, students will hike more than 75 miles, with roughly 20,000 feet of cumulative elevation gain, and 18,000 feet of elevation loss. Group size is limited to 15, including two guide instructors. Due to the rugged nature of the hike, participants must be in excellent physical condition and weigh at least 75lbs.
"The Mt. Whitney Youth Challenge is an opportunity for every kid to do something truly rewarding and life-changing with their summer vacation. It's an experience that stands out on a resume or college application. But more importantly, the sense of accomplishment goes with each kid, wherever they go, for the rest of their life," Murphy said.
Visit https://tsxchallenge.com to learn more and for details.
TSX Challenge founders are also giving a series of live inspirational talks at REI locations throughout California beginning March 9th. For a complete list of local talks visit https://tsxchallenge.com/events.
ABOUT TSX CHALLENGE
TSX Challenge (TSX) operates the Trans-Sierra Xtreme Challenge, Grand Canyon Challenge, and Hell For Sure Challenge, a series of inspirational guided backpacking treks across Kings Canyon and Sequoia National Parks, Grand Canyon National Park, and John Muir Wilderness. TSX Challenge experiences enable people who lack the skill set or confidence to safely venture into some of the most remote, least-traveled regions of our nation's back country. Each outing is a team effort. While the treks can be intense, no prior backpacking experience is required, and all ages are welcome. Just bring your mental toughness, positive attitude and be ready for the challenge of a lifetime.
Since 1983, TSX founders have led close to 900 people across its trans-Sierra route to the summit of Mt. Whitney. TSX Challenge operates with commercial use authorization for backpacking within Sequoia and Kings Canyon National Parks and Grand Canyon National Park.
CONTACT
TSX Challenge
inspire(at)tsxchallenge(dot)com
(925) 255-5065