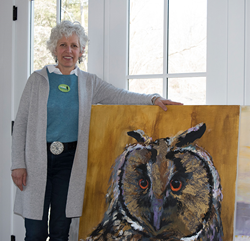 "It's the essence, the heart, the soul of the owls I love to capture."
RIDGEFIELD, Conn. (PRWEB) February 26, 2018
IntoBirds, an online magazine, community, and resource for all things birds connected with Karen Kent, to profile this incredibly gifted artist from Fairfield, Connecticut, who has soared to new artistic heights with 'The Majestic Owl' series.
Kent, who has painted 35 of the 216 owl species, has a gift for capturing the owl's true essence, as she describes, the owl's heart and soul, in her paintings.
The amazing part is that Kent doesn't even know what kind of owl she's painting.
"I have no idea what kind of owl I'm painting. It's not what I'm after. I like that other people know. To me, it's the essence, the heart, the soul of the owls I love to capture," says Karen Kent.
IntoBirds first learned about Kent's work when she exhibited her owl series this past fall at the Greenwich Audubon Society in Greenwich, Connecticut.
"As soon as we saw Kent's first piece titled 'Courage' of a beautiful European Eagle Owl and it's flaming orange glowing eyes, we knew we were in for a treat, says Reneé Hewitt co-founder, and editor-in-chief of intoBirds. "Kent's funny and playful owl series is incredible, and we wanted to learn more about her inspiration for this outstanding series to share with everyone who loves birds and art as much as we do."
Every owl Kent paints have a fantastic story behind it. And each has a unique name.
But her motivation to paint this owl series is even more remarkable.
People who love owls, birds, nature, art, creating or who just enjoy a good human interest story will resonate with Karen Kent's art.
Read intoBird's profile about Karen Kent here.
People who enjoy bird watching, appreciate birds, bird photos or reading fascinating stories about birds should visit http://www.intobirds.com.
About IntoBirds IntoBirds is an online magazine, community, and resource for all things birds based in Ridgefield, Connecticut.
Whether it's nature, art, architecture, engineering, literature, film or fashion, birds inspire creative minds to reach for the skies. 
Whatever you call yourself: a bird watcher, bird enthusiast or just love birds, we all share a common trait: we are into birds.
Learn more and follow IntoBirds at http://www.intobirds.com , @intobirds, and #intobirds.