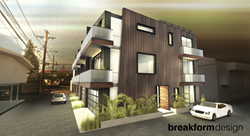 1327 Fuller will become the project that defines luxury and aesthetics for the young family buying a house that becomes the home of their dreams.
LOS ANGELES (PRWEB) February 26, 2018
BREAKFORM | RE closed its latest small lot subdivision development project in the prime West Hollywood adjacent neighborhood in record time using Equity Multiple, one of the leading real estate crowdfunding platforms. The offering was 145% subscribed in 72 hours.
The project, an architecturally significant 5 Unit Small lot Subdivision on 1327 N. Fuller Avenue, Los Angeles CA 90046 will be environmentally sustainable and eco friendly with CalGreen status. Each home will incorporate 1,850 square feet of interior living space, with 3 bedrooms, 3.5 bathrooms, rooftop deck and a 2 car garage. The houses will be fee simple and not share any foundation or walls, with no HOA dues and with ownership of each parcel of land by the homeowner.
This is the third transaction BREAKFORM | RE and its affiliates and subsidiaries have completed using Equity Multiple and harnessing the demand for high end residential housing offerings by proven operators in the core coastal California markets.
BREAKFORM | RE is a fully integrated real estate investment, development and operations company focused on sourcing, acquiring and developing luxury residential assets in the core markets of Coastal Southern California. The firm manages real estate private equity funds, multiple direct asset syndications and has been involved with some of the most sought after residential projects in Southern California.
For More Information:
BREAKFORM | RE
109 Eucalyptus Dr.
El Segundo, CA 90245
T: (310) 881-9509
F: (310) 356-3544
E-Mail: info@breakformre.com
W: http://www.breakformre.com