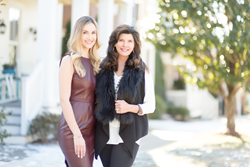 Our team has the incomparable ability to understand every clients' unique home buying or selling needs.
HUNTSVILLE, Ala. (PRWEB) February 26, 2018
Haute Residence welcomes Christine Wicks and Nicole Hartenbach to its invitation-only real estate network of top brokers. As Haute Residence partners, Wicks and Hartenbach exclusively represent the high-end real estate market in the whole of Alabama.
Based in Huntsville, Alabama, Wicks and Hartenbach are the #2 team for Keller Williams in the state of Alabama. Second and 3rd generation real estate professionals with over 22 years of experience and a deep knowledge of local and state market trends, they work in all price points of residential real estate and specialize in luxury home sales and relocation.
Leading the InTown Partners Real Estate Group with Keller Williams, the mother-daughter duo combines incomparable creativity, undivided attention to detail and technology savvy to provide white-glove services that exceed clients' expectations. Their leading position in the local market is evidenced by numerous awards and recognitions in production. Both Wicks and Hartenbach are members of the elite Million Dollar GUILD (out of only 9 members in the state of Alabama) and have their CLHMS designations. Wicks has also earned the esteemed CRS designation.
The InTown Partners Real Estate Group team has developed a reputation for their vast knowledge of the local neighborhoods, amenities, and market values, as well as for their exceptional customer service and investment in innovative multi-channel marketing techniques. Team members focus on getting to know their clients' needs through ongoing communication, so they can offer informed insight and support during the home buying or selling process. With offices throughout the state, they have Alabama covered.
"Our team has the incomparable ability to understand every clients' unique home buying or selling needs," Wicks says. "My goal is for each individual to see that we understand how complex and emotional the process can be and that we are focused on one goal: providing outstanding service. We view our ability to provide this seamless, turnkey service as a great strength and benefit to our valued customers. A quick glance through our client reviews speaks volumes about the level of professionalism and commitment we provide."
About Haute Residence:
Designed as a partnership-driven luxury real estate portal, Haute Residence connects its affluent readers with top real estate professionals, while offering the latest in real estate news, showcasing the world's most extraordinary residences on the market and sharing expert advice from its knowledgeable and experienced real estate partners.
The invitation-only luxury real estate network, which partners with just one agent in every market, unites a distinguished collective of leading real estate agents and brokers and highlights the most extravagant properties in leading markets around the globe for affluent buyers, sellers, and real estate enthusiasts.
HauteResidence.com has grown to be the number one news source for million-dollar listings, high-end residential developments, celebrity real estate, and more.
Access all of this information and more by visiting: http://www.hauteresidence.com