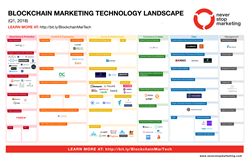 This is a tremendous growth rate. It took over three years for digital marketing technology solutions as a whole to grow 400%.
WASHINGTON (PRWEB) February 27, 2018
Never Stop Marketing, a leading provider of blockchain marketing services, released the Blockchain Marketing Technology Landscape (BMTL) for Q2, 2018, which illustrates a nearly 400% growth in blockchain martech and adtech startups in the past six months.
"We are seeing a tremendous growth rate," said Jeremy Epstein, CEO of Never Stop Marketing. "The explosion in the crypto market is driving innovation in decentralized MarTech. It took over three years for digital marketing technology solutions as a whole to grow 400%from 2014 to 2017 and this market shows no signs of slowing down."
Advertising and Loyalty Still Lead, But Other Sectors Also Show Growth
There are many insights to be had, including:

The attack on the inefficiencies in the digital ad ecosystem continues
Loyalty market has grown by 150% as many people realize that loyalty points are assets that can be represented as crypto tokens
Search and social advertising is up by 500%
Identity companies rose by nearly 100%
First-Movers Showing Some Traction
While not represented in the landscape per se, Never Stop Marketing's research also uncovered some nice stories of traction on the part of some of the more established players in the market.
AdChain has a market cap of $21 million and its daily trading volume is $200k
Steem is one of the top 1,200 most visited sites in the world, registering a top-500 spot in US traffic
Loyyal has worked with Smart Dubai on blockchain applications that support rewards for tourism activities, and is being explored by Singapore airlines and the Amadeus Global Travel Ecosystem to deliver consumer loyalty
The OnXchng partner program now has 10 partners, with an estimated 300mm in mobile ad unit inventory.
The Future Looks Bright for Blockchain MarTech
Marketers and advertisers need technology to get their jobs done. As the crypto market grows, the rate of innovation in the blockchain martech and adtech space will continue to grow as well as we discover new ways for marketers to deliver value and improve ROI via crypto-based models.
"We expect to see this landscape grow even more, perhaps even at a faster rate as more talent and capital flows into the space," said Epstein. "These are only the blockchain martech and adtech projects we know about and it is certainly possible that we have missed more than a few. We will update as we discover more."
Projects seeking to be profiled are requested to complete this form for consideration.
About Jeremy Epstein
Jeremy Epstein is CEO of Never Stop Marketing and the former VP of Marketing at Sprinklr, guiding the company's promotion from Series A through "unicorn" status. Jeremy currently works with some of the world's leading crypto startups including Zcash, OpenBazaar, ARK, and Peer Mountain. He advises F2000 organizations on the implications of blockchain technology and is author of the ebook "The CMO Primer for the Blockchain World."