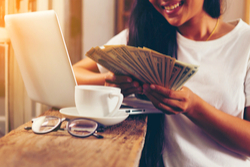 WILMINGTON, Del. (PRWEB) February 27, 2018
Many people have heard the term Unclaimed Money, but are not aware that it might affect them. With nearly $60 billion of unclaimed money found in the USA today, many Americans are entitled to funds that they are unaware of their existence.
GoLookUp has set up an advanced Unclaimed Money search directory that lets users find out if they are entitled to money they may have forgotten about.
Unclaimed Money in the United States
Along the years people all across the US change their place of residence and also switch jobs, which causes funds to accumulate in several places. These changes lead to closing of bank accounts, choosing different pension funds, having uncashed checks and money being left behind and forgotten by its rightful owners.
The authorities and offices that hold the unclaimed money are legally prohibited from using it, meaning that the people that earned it can claim it back at any time. GoLookUp's advanced unclaimed money search allows users to run a financial background check, and search for lost funds in every state they lived in.
Searching Unclaimed Money with GoLookUp
The information about unclaimed money is found in public records that are available to the public. Searching for unclaimed money in public records is time consuming, especially if the owners of the funds have relocated.
In order to make the search for unclaimed money faster and easier, GoLookUp has set up a special directory that finds unclaimed money in mere minutes. After entering the first name, last name and state of residence of the person who is searching for unclaimed money, GoLookUp scans billions of public records to find lost funds.
The website also provides a people search service that allows users to find long lost relatives. By combining the people search with the unclaimed money search, users can get access to information about the lost funds of their loved ones, living or deceased. The website also provides users that found unclaimed money the necessary forms to claim it back, which makes the process quicker and easier.
With nearly $60 billion of unclaimed money found all across the USA, many people are unaware that they are entitled to money. GoLookUp's advanced unclaimed money directory allows users to find and also claim what is rightfully theirs with a quick and accurate search directory.