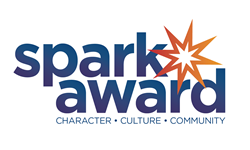 COLUMBUS, Ohio (PRWEB) February 27, 2018
Better Business Bureau's (BBB) Center for Character Ethics is now accepting entries and nominations for the 2018 Spark Awards – a Torch Award for Entrepreneurship.
The Spark Awards is a BBB recognition award presented by BBB's Center for Character Ethics. In coordination with the Torch Awards for Ethics TRUST! Principles, the Spark Awards entries are evaluated based on three key categories: character, culture and community. The Spark Awards recognizes millennial entrepreneurial organizations whose leaders demonstrate a higher level of character, generate a culture that is authentic, and connect with their community.
The 2018 Spark Awards Class will be honored and the finalists will be presented with their awards the week of May 7th, during TechStars Columbus Startup Week. The 2018 Spark Awards Class and this year's finalists will also be involved with telling their stories during simultaneous BBB and Center events throughout the year, and will be recognized at the 2018 Torch Awards for Ethics event in the fall.
For award criteria, to apply or to nominate a business, and to find out more about networking and information sessions, please visit bbbsparkaward.com.
For more information and details, follow BBB on Facebook or Twitter.
About BBB
For more than 100 years, the Better Business Bureau has been helping people find businesses, brands and charities they can trust. In 2017, people turned to BBB more than 160 million times for BBB Business Profiles on more than 5.2 million businesses and Charity Reports on 11,000 charities, all available for free at bbb.org. There are local, independent BBBs across the United States, Canada and Mexico, including BBB Serving Central Ohio, which was founded in 1921 and serves 21 counties in Central Ohio.
About BBB Center for Character Ethics
BBB's Center for Character Ethics is a business-supported, free-enterprise advancing non-profit organization focused on serving business managers & classroom educators with leadership character and organizational ethics strengthening resources. Our mission is to provide character ethics assessment, training and recognition to for-profit and nonprofit leaders and to provide k-16 educator-focused character strengthening programs. As a result, we intend to help both producers and consumers flourish in central Ohio.
About Columbus Startup Week
Celebrating entrepreneurs in communities everywhere- bringing entrepreneurs, local leaders and friends together over five days to build momentum and opportunity around the community's unique entrepreneurial identity. Over the course of five days, participants in Startup Week can choose the events they'd like to attend. Speakers from the community are brought in to share their story to motivate and inspire the entrepreneurial audience. Organizers select the tracks they feel are most relevant to the community and choose speakers and seasoned leaders based on those tracks. For more information on TechStars Columbus Startup Week, visit columbus.startupweek.co.