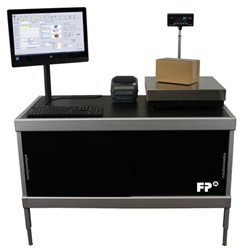 Addison, IL (PRWEB) February 26, 2018
FP Mailing Solutions announces OnShip, a multi-carrier and LTL shipping software solution that reimagines package and freight shipping. FP OnShip is fully scalable to fit all shipment volumes while maintaining high operational efficiency. The software seamlessly integrates with ERP systems to maximize efficiencies and customer satisfaction in reporting and cost accounting. Easily streamline complex shipping methods and label printing processes with FP OnShip's fully-featured interface. FP OnShip offers a complete suite of features and benefits to improve and automate shipping processes and reduce costs.
Superior Interface and Rate Shopping
FP OnShip provides a single touch screen enabled interface that displays all necessary information to process a small parcel or LTL shipment. The rate shopping feature allows customers to compare carrier costs and delivery dates in real-time. OnShip takes rate shopping one step further and offers a least carrier cost feature that automatically selects the best shipping option.
OnShip is armed with all of the major carriers along with a powerful LTL rating component to give customers the lowest costs per shipment even if they don't have the volume to qualify for them.
All-in-One User Interface
Access a full dashboard of all available shipping options without the hassle of carrier research and time consuming multiple screen processes. FP OnShip software gives businesses the flexibility to access features and information from single or multiple locations at the same time.
FP OnShip's Order File Processing feature allows users to easily scan a barcode, print the label and transfer the data to the company's server.
Advanced Reporting and 3-Tier Accounting
OnShip is delivered with an internal report building tool to give the reporting flexibility businesses need. Accounts can be tracked by creating specific accounting tiers, giving customers the options to ship against account budgets, monitor shipping activity and create cost account reporting. Customers have access to OnShip's comprehensive reporting data to determine areas of efficiency and cost prevention.
"FP OnShip is easy to integrate, install and operate and is designed to help customers focus on their business and not the shipping system that supports it," said Mo Bowlus, National Product Manager of OEM Solutions.
FP OnShip is fully equipped to process any shipment volume quickly and at the lowest cost. This technologically advanced software solution empowers customers to ship more without having to worry about handling larger order volumes. It's the perfect addition to any business, mailroom or warehouse looking for a simplified way to ship their packages.
FP OnShip is available at any local Authorized FP Dealer.
ABOUT FP MAILING SOLUTIONS
FP Mailing Solutions is a subsidiary of the worldwide acting and listed company FP. FP revolutionized mailroom technology with the introduction of the first digital meter. Today FP is one of the leading postage meter, folder inserter, address management and mail stream solutions provider offering a wide range of mail center products and services designed to create seamless mailing solutions. The company is plugged into over 230,000 mailrooms worldwide, and is the fastest growing mail machines and systems vendor in the U.S. FP believes in providing all of their customer's mailability and quality mailing experiences with minimal error. To learn more about FP Mailing Solutions, visit http://www.fp-usa.com.