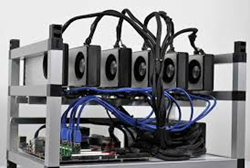 NEW YORK (PRWEB) February 28, 2018
IRA Financial Group, the leading provider of self-directed IRA LLC and Solo 401(k) Plans, has seen an increase in demand from investors looking to use their self-directed IRA to invest in cryptocurrency IRA mining activities. As per IRS Notice 2014-21, cryptocurrency mining activity triggers ordinary income or business income if performed through an entity. Accordingly, if one uses a self-directed IRA or Solo 401(k) Plan to invest in a cryptocurrency mining operation, the income generated could be subject to the unrelated business taxable income tax (UBIT), which can go as high as 37% in 2018. However, under the new tax plan, an investor can have her self-directed IRA or Solo 401(k) plan invest in a C corporation and use that C corporation to block the application of the UBIT tax and reduce the liability from 37% to 21%. "The Trump tax law reduction in the C corporation tax to 21% has created an opportunity for self-directed IRA investors to mine cryptocurrencies at a reduced tax rate," stated Adam Bergman, President of the IRA Financial Group.
Cryptocurrency mining is the process by which transactions are verified and added to the block chain. Anyone with access to the internet and suitable hardware can participate in mining.  The mining process involves compiling recent transactions into blocks and trying to solve a computationally difficult mathematical solution.  The miner who solves the mathematical solution gets to place the next block on the block chain and claim the rewards, which are typically new releases crypto coins.  The business of mining has become very attractive to many cryptocurrency investors.
According to Mr. Bergman, because cryptocurrency mining is so passive in nature, much like buying stocks or mutual funds, self-directed IRA and Solo 401(k) plan investors should be able to do so without triggering the IRS prohibited transaction rules pursuant to IRC 4975. However, the application of the UBTI tax could make it tax inefficient, which is why the C corporation blocker strategy has become so much more appealing after the passage of the Trump tax plan in December 2017.
IRA Financial Group & IRA Financial Trust Company's Cryptocurrency IRA platform with wallet control will allow retirement account holders to buy, sell, or hold Bitcoins and other cryptocurrency assets and generate tax-deferred or tax-free gains, in the case of a Roth IRA. The primary advantage of using a self-directed IRA LLC to make Bitcoin IRA and other cryptocurrency IRA investments is that all income and gains associated with the IRA investment grow tax-deferred or tax-free in the case of a Roth IRA.
IRA Financial Group & IRA Financial Trust Company has partnered to offer a total control private key Bitcoin IRA LLC platform for cryptocurrency investors. With IRA Financial Group's private key crypto solution, the retirement account holder have total control over his or her cryptocurrencies and can hold them through an exchange or via a digital or hardwallet. No need to pay commissions and account value fees to IRA custodians, with IRA Financial Group's "Wallet Control" IRA one can take control of their cryptocurrencies. IRA Financial Group's self-directed IRA LLC allows one to use their retirement funds to make Bitcoin and other investments tax-free and without custodian consent.
IRA Financial Group is the market's leading provider of self-directed retirement plans. IRA Financial Group has helped thousands of clients take back control over their retirement funds while gaining the ability to invest in almost any type of investment, including real estate without custodian consent.
The IRA Financial Trust Company, a self-directed IRA custodian, was founded by Adam Bergman, a partner with the IRA Financial Group. Mr. Bergman is a leading expert on the taxation of retirement funds and has authored multiples articles on how to use a self-directed IRA to buy cryptocurrencies.
Adam Bergman, IRA Financial Group partner, has written seven books the topic of self-directed retirement plans, including, "How to use Retirement Funds to Purchase Cryptocurrencies, "The Checkbook IRA", "Going Solo," Turning Retirement Funds into Start-Up Dreams, Solo 401(k) Plan in a Nutshell, Self-Directed IRA in a Nutshell, and in God We Trust in Roth We Prosper.
To learn more about the IRA Financial Group please visit our website at http://www.irafinancialgroup.com or call 800-472-0646.