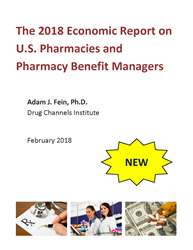 "Political pressure to reform our drug channel system is growing," Fein adds. "There will be enormous scrutiny of the profits and business models of intermediary companies."
PHILADELPHIA (PRWEB) February 27, 2018
Today Drug Channels Institute, a leading management educator for and about the pharmaceutical industry, released its exclusive, in-depth analysis of U.S. pharmacies and pharmacy benefit managers (PBMs). The new 2018 Economic Report on U.S. Pharmacies and Pharmacy Benefit Managers provides the only complete examination of the pharmacy and PBM industries' prescription economics, reimbursement models, market structure, growth rates, forces of change, and interactions within the U.S. healthcare system.
"The U.S. drug channel has become increasingly consolidated," says Drug Channels Institute CEO Adam J. Fein, Ph.D., the study's author and a widely regarded expert on pharmaceutical economics and the drug distribution system. "Six companies—CVS Health, Walgreens Boots Alliance, Express Scripts, Walmart, Rite Aid, and UnitedHealth—accounted for almost two-thirds of U.S. prescription dispensing revenues in 2017. Also, more than 70% of equivalent prescription claims are processed by three PBMs: the Caremark business of CVS Health, Express Scripts, and the OptumRx business of UnitedHealth."
These findings are among the many insights and trends in this highly regarded report, now in its ninth edition. With 160 proprietary charts, exhibits, and data tables, it offers the most current economic information about specialty drugs, pharmacy and PBM profits, manufacturer rebates, patients' out-of-pocket expenses, and more.
"Political pressure to reform our drug channel system is growing," Fein adds. "There will be enormous scrutiny of the profits and business models of intermediary companies."
The report also analyzes the crucial healthcare trends that will affect PBMs and pharmacies. It explores such topics as pharmacy benefit designs, drug price inflation, the gross-to-net bubble, point-of-sale rebates, drug manufacturers' business strategies, narrow pharmacy networks, the controversial 340B Drug Pricing Program, and much more.
To purchase and immediately download the new report, visit http://drugch.nl/pharmacy. To read a free report overview, visit http://drugch.nl/overview.
About Drug Channels Institute
Drug Channels Institute, a division of Pembroke Consulting, Inc., is a leading provider of specialized management education and computer-based training for and about the pharmaceutical industry. To learn more about its products, visit http://www.drugchannelsinstitute.com. To access Dr. Fein's popular Drug Channels blog, visit http://www.drugchannels.net.