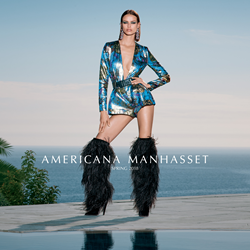 We took inspiration from David Hockney's swimming pool paintings, with a dash of Slim Aarons for good measure.
MANHASSET, N.Y. (PRWEB) February 27, 2018
Spring ready-to-wear, accessories and jewelry from the most coveted brands in the world are captured in Americana Manhasset's high style picture book starring top runway models Birgit Kos and Julian Schneyder.
Photographed, produced and styled by Laspata DeCaro, the campaign was shot at poolside locations in and around Los Angeles, including a pristine backyard swimming pool overlooking the Hollywood Hills, an ornately eccentric private poolhouse above the Malibu coast, and the historic Annenberg Community Pool in Santa Monica.
In conjunction with the still images, Americana Manhasset has debuted a trio of short films (also starring Kos and Schneyder) that range from sultry and sexy, to modern and techy, to fun and quirky.
Americana's Spring Book is direct-mailed to 115,000 targeted households. The images and videos are being featured in national and regional print ads in publications such as The New York Times, T-Styles magazine and The World Journal newspaper, as well as in various digital and social media ads. The visuals are also being shown prominently throughout the season on americanamanhasset.com and featured on all Americana social media outlets.
"We took inspiration from David Hockney's swimming pool paintings, with a dash of Slim Aarons for good measure," said Charles DeCaro. "The backdrop of cool blues and clean, crisp lines created by the pools was perfect for this season's collections, which embrace a relaxed, easy chic. The square format was the finishing modern touch. As always, while we had a clear editorial voice and a strong vision for this campaign, it is the fashion and the designers' messages that remain the focus. We shoot an appropriate image for each brand, from Chanel, Gucci and Céline to Rag & Bone, Theory and Zimmermann, but each photograph also works as part of the whole."
Americana Manhasset is a premier collection of over 60 fine shops, including Hermès, Chanel, Louis Vuitton, Gucci, Cartier, Ermenegildo Zegna, Van Cleef & Arpels, Bottega Veneta, Hirshleifers, Ralph Lauren, London Jewelers and more, all within a unique outdoor environment designed by renowned architect Peter Marino and landscape designer Oehme van Sweden. Americana Manhasset offers a complimentary Personal Shopping Service, a remarkable luxury fashion and gift resource. Located on Long Island's beautiful North Shore, Americana Manhasset is 20 miles from Manhattan and 50 miles from the Hamptons.
For more information please visit americanamanhasset.com. Follow Americana Manhasset on Instagram and Twitter, subscribe to our YouTube channel, and like our Facebook page!