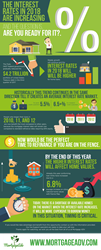 the question is, are you ready for it?
LOS ANGELES (PRWEB) February 28, 2018
The interest rates in 2018 are increasing, and the question is, are you ready for it?
The Fed gradually reduced the $4.2 trillion portfolio of United States Treasury debt in the third quarter of 2017 due to which it was clear that the economy's steady growth will continue and the interest rates in 2018 will go higher for driving home loan. The government, at the moment, has pulled out a smart game of home loan interest rate rapidly increasing yields so that the investors will be attracted because when the mortgage interest rate increases, so do the bond yields! For now, the interest rates are not going down anywhere near, and no downward correction discussed either. This trend seems to continue in the same direction till it settles and becomes an average interest rate market. Current rates are more than 5.5% for rock stars while and for marginal credit, 6.5% or higher.
People who even have HARP loans are now in better shape because those rates will remain low compared to standard refinance rates that can require 20% equity. Homeowners that currently have HARP with negative equity or none can have the same percentage of investment compared to someone with a lot of equity due to strong government backing. Moreover, for lenders, it is a stable mortgage product and safe to offer the customers.
The high-interest rates undoubtedly affect the home values. In 2018, the conforming loan limits have increased due to the increase in average increment on citing national home values with Fannie Mae. After a long time, the homeowners get to benefit from it. Right now, in the market, the homeowners are not selling and have a low-interest rate which makes the shortage of available homes. As soon as the interest rate increases, it will be more expensive to borrow money, and affordability for buyers will be hard.
In short; a decrease in demand results in the regular housing market because of which the home sellers have no choice but to have access to more buyers in lower sales prices. In this situation, perhaps the timing is critical. Home buyers who were previously making up their mind should be rushing to the market to buy before things get out of hand and affordability becomes difficult. Moreover, you should while creating bidding wars expect a low inventory, driving up home prices up as the home buyers taking benefit of interest rates are still in 4% range.
Refinancing is hands down a good idea before the interest rates in the upcoming month's rises. With low-interest rates in the present, the homeowners can access the equity in your home. The value of your home might be more or at least preserved in the future if reinvesting home equity into home developments is considered and done. Moreover, One of the factors that lower the value of your house in case of selling the home in future or just refinancing delayed maintenance. You can access to more equity for debt consolidation, home improvements, or other investments where a down payment required that you do not have in your savings currently with an increment of conforming loan limits in for now. By the end of this year interest rates will be the dominate subject to problem solve and getting money this cheap will be a disappearing scene in our rearview mirror.
With online resources and reliable information sites like MortgageADV.com consumers can find the top competing lenders and learn how to make an educated decision. If you would see how low your rate will be with no obligation and for free click here.