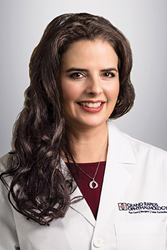 GRAND RAPIDS, Mich. (PRWEB) February 27, 2018
Grand Rapids Ophthalmology (GRO) is pleased to announce the addition of Leslie Norris, DO, to its growing team of eye care professionals. She is the latest to join in GRO's continued commitment to providing patients superior treatment with its expansive team of ophthalmologists and optometrists.
"We feel very fortunate to have Dr. Norris join our team with her extensive training and professional experience," said Robert Wolford, GRO's Executive Director. "She will play an integral role in helping Grand Rapids Ophthalmology continue to provide the highest level of eye care to our patients."
Dr. Norris is a board-certified ophthalmologist. She performs routine eye exams and oculoplastic surgery, and also treats patients with medical issues, including: glaucoma, diabetes, and post-operative care for cataract and other surgical procedures. She received her Doctor of Osteopathy from Michigan State University College of Osteopathic Medicine, completed her residency at Hillsdale Community Health Center as part of Michigan State Consortium, and is a graduate of Taylor University.
Dr. Norris is a member of: American Osteopathic Colleges of Ophthalmology and Otolaryngology (AOCOO), American Academy of Ophthalmology, Michigan Society of Eye Physicians and Surgeons, and American Osteopathic Association. Dr. Norris currently serves as clinical faculty in ophthalmology for Michigan State University. GRO is proud to support the West Michigan community by providing on-call services for our local hospitals, and this will be a key focus for Dr. Norris in addition to practicing at the Walker and East Beltline locations. Dr. Norris is currently accepting new patients.
About Grand Rapids Ophthalmology
Founded in 1982, Grand Rapids Ophthalmology (GRO) is the largest fully-integrated eye care medical group in West Michigan. It offers a full suite of eye care services from routine eye exams, contact lenses and glasses, to pediatrics and the most advanced medical and surgical treatments such as LASIK, cataract, cornea, retina, glaucoma, and oculoplastics, including cosmetic and reconstructive eyelid surgery. GRO employs the largest number of eye care specialists and professionals in the region: 11 ophthalmologists, 20 optometrists, and 50 certified opticians; with a total of 400 employees at 12 locations. For more information, visit: http://www.seeitclear.com.