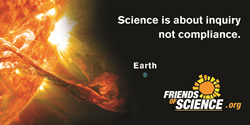 the Intergovernmental Panel on Climate Change (IPCC) claims to make a comprehensive assessment of climate science, but actually leaves out perhaps more than half of climate science by failing to assess natural causes of climate change."
CALGARY, Alta. (PRWEB) February 27, 2018
On Feb. 27, 2018, the Global Warming Policy Foundation will release its "State of the Polar Bear" report by author Dr. Susan Crockford, says Friends of Science Society. Dr. Crockford has faced a three-month barrage of social media invective stemming from a paper by Harvey et al (2017) released Nov. 29, 2017, entitled "Internet Blogs, Polar Bears, and Climate-Change Denial by Proxy," published in Oxford Academic Biosciences Journal. In the paper, Dr. Crockford's credibility was questioned and blogs that post her work were identified as 'deniers' by the paper's impressively long list of well-known science and social science co-authors. Friends of Science Society's name appears on that list of blogs.
Friends of Science publishes regular updates on sea ice at the poles from reputable scientific sources. Since 2002, Friends of Science team of earth, atmospheric and solar scientists have been examining climate change evidence and disputes the derogatory name-calling of Harvey et al (2017).
As reported in the Financial Post on Dec. 7, 2017, several observers considered that Dr. Crockford's work had been 'climate-mauled.'
Polar bears have long been the poster child of the Catastrophic Anthropogenic Global Warming scare. The public frenzy and affection for the powerful and deadly white bear reached its peak during the life of "Knut" – an orphaned polar bear, rejected by his mother in 2006 and raised by a Berlin zookeeper, till his tragic death March 19, 2011 from a brain seizure and drowning, as reported by Reuters on April 1, 2011.
According to a Friends of Science Society video interview with Dr. Ian Clark of the University of Ottawa, polar bears lived during the Holocene Hypsithermal, a time about 8,000 years ago when the Arctic region was warmer than today.
Though the Paris Agreement claims carbon dioxide reduction will prevent global warming, Friends of Science Society president Ken Gregory points out that the Intergovernmental Panel on Climate Change (IPCC) "… claims to make a comprehensive assessment of climate science, but actually leaves out perhaps more than half of climate science by failing to assess natural causes of climate change." Natural climate change factors include solar cycles that affect earth's geomagnetism, atmospheric concentrations of gases, tides, winds, ocean cycles, atmospheric oscillations and more. Earth also has internal variability from volcanic and tectonic activity.
Due to such complex, interwoven cycles, Friends of Science Society says it is important that there be civil, rational debate on issues of climate change, wildlife management and energy policy, and asks the public to argue the evidence, rather than name-calling. "Pink Shirt Day," the anti-cyber bullying day is on Feb. 28, 2018, the day after International Polar Bear Day. LINK: pinkshirtday.ca/
An independent paper rebutting Harvey et al (2018) has been posted on SSRN – Social Science Research Network – entitled: "Cult of the Climate Change Polar Bear: Knut is Dead, Long Live Knut."
Friends of Science Society hold the view that the sun and ocean cycles are the main drivers of climate change, not carbon dioxide.
About
Friends of Science Society is an independent group of earth, atmospheric and solar scientists, engineers, and citizens, celebrating its 16th year of offering climate science insights. After a thorough review of a broad spectrum of literature on climate change, Friends of Science Society has concluded that the sun is the main driver of climate change, not carbon dioxide (CO2).
Friends of Science Society
P.O. Box 23167, Mission P.O.
Calgary, Alberta
Canada T2S 3B1
Toll-free Telephone: 1-888-789-9597
Web: friendsofscience.org
E-mail: contact(at)friendsofscience(dot)org
Web: climatechange101.ca