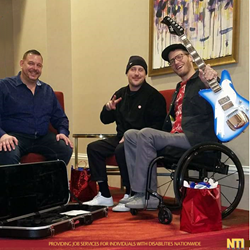 "Eric Howk and 'Portugal. The Man' have helped individuals with disabilities nationwide to an epic proportion with their 'I Can' attitude and ability. In turn, Eric has spread his 'I Can' attitude to those looking for work, letting NTI guide their path to success." ~Michael Sanders, NTI
BOSTON (PRWEB) March 01, 2018
Over the past year NTI (http://www.nticentral.org) has worked in partnership with Atlantic Records award winning indie pop/rock artists "Portugal. The Man" and guitarist Eric Howk to create awareness of the job services NTI provides for Americans with Disabilities and Disabled Veterans nationwide. Since one in every five Americans has a disability, Eric's message valuable to more than 60 million people across the nation. NTI honored that partnership with a special recognition on February 22 in Providence, RI while "Portugal. The Man" was at The Strand for a sold-out performance. Howk has a special affinity for NTI and the services they provide for Americans with Disabilities, as he himself has been paralyzed from the sternum down since an accident in 2007. Howk has successfully learned how to keep up with the band's busy tour schedule and his disability has led him to notice and connect with fans who use wheelchairs or other assistive devices and give them encouragement and support.
As a thank you gift, NTI presented Howk with a custom guitar from Goldfinch (https://goldfinchguitar.com) based in Philadelphia, PA. Mike Sanders, Director of Marketing at NTI was impressed with Goldfinch's focus on creativity and quality. When he approached Philip Smith, founder and designer at Goldfinch, about the idea of designing a custom guitar for Howk as a thank-you gift, Smith was immediately intrigued. Together Sanders and Smith came up with the idea of creating a custom guitar with a hawk on it, in reference to Eric Howk's last name. Once the concept was agreed on, the design and building process took about three months. Smith said, "It is a worthwhile cause to be associated with and an honor to help individuals with disabilities and disabled Veterans through Goldfinch. We felt that Eric was doing such a great effort on spreading the word, we wanted to do our part to help out."
Prior to their performance, guitarist Eric Howk and bassist Zach Carothers of "Portugal. The Man" were interviewed by NTI's Director of Marketing, Michael T Sanders, who asked questions surrounding music, accessibility, inclusion, social justice, and the current tour. At the conclusion of the interview, NTI bestowed upon the band some thank you gifts for the work Portugal. The Man has done to help individuals with disabilities nationwide.
In addition to presenting a guitar to Howk, each member of the band (John Gourley, Zach Carothers, Kyle O'Quin, Jason Sechrist, Zoe Manville, and Eric Howk) was given a blue, nylon jacket with the NTI logo embroidered on the left shoulder. Sanders said not only are retro-styled jackets cool, he hopes the band will wear them and when asked questions about them it will lead to additional discussions about NTI's job services for Americans with Disabilities. The band was also given an original poster digitally designed by NTI's in-house graphic artist Damian Santamaria. Santamaria drew inspiration from the band's 2013 album Evil Friends. "I really loved the simple black, gold, and white color scheme they used on their album cover and I just wanted to carry that over," Santamaria said. The poster depicts the five band members, each with golden eyes, against the background of a golden eye, reminiscent of the one from the Evil Friends album.
With "Portugal. The Man's" release Woodstock having gone double-platinum and the single Feel It Still won a Grammy, NTI is thrilled with the on-going opportunity to partner with Howk and other band members to increase awareness of opportunities for Americans with Disabilities to find work. NTI looks forward to a continuing partnership to make a positive difference in the lives of individuals with disabilities and extend their rights across the Nation.
The Public Service Announcements Howk recorded for NTI are available for immediate distribution at  http://portugaltheman.nticentral.org.
# # #
About NTI: National Telecommuting Institute. Inc (NTI) is a 501 (c)(3) (http://www.nticentral.org) non- profit organization with headquarters in Boston, MA. It has been supporting Americans with disabilities since 1995. NTI provides training and job services in work at home positions across the United States through their NTI@Home and LandAjob.org programs. NTI pioneered staffing virtual call centers with Americans with Disabilities, including Disabled Veterans, who work from home.
About "Portugal. The Man": "Portugal. The Man" is an American Indie pop/rock band from Wasilla, Alaska. The group consists of John Gourley, Zach Carothers, Kyle O'Quin, Jason Sechrist and Eric Howk. Gourley and Carothers met and began playing music together at Wasilla High School, and the band is proud of its Alaskan roots. The band has been with Atlantic Records since 2010. "Portugal. The Man's" Feel It Still won "Best Pop Duo/Group Performance" at the 60th Annual Grammy Awards last January.
About Goldfinch Guitars: Goldfinch Guitar (https://goldfinchguitar.com) is a custom guitar boutique based out of Fishtown, Philadelphia. Founded by Philip Smith and Ryan Compton, their unique guitar designs are headlined by the Lux, Noir, and Painted Lady production instruments. Goldfinch is committed to creativity, playability, and social responsibility. They consider each guitar a work of art.  
About Atlantic Records: Atlantic Records (http://www.atlanticrecords.com) was founded in 1947 by Ahmet Ertegun and Herb Abramson, both avid music fans and record enthusiasts. Their passion for artist development made Atlantic Records the home of choice for legendary artists including Aretha Franklin, Led Zeppelin, Ray Charles, Otis Redding, The Rolling Stones, Cher, Genesis, Cream and many more. With over 60 years of recorded music history, our passion for artistry in music continues today as a new generation of incredible artists including Bruno Mars, Coldplay, fun., Jason Mraz, Ed Sheeran, Wiz Khalifa, Janelle Monáe, Skrillex, Trey Songz, Hunter Hayes and more continue to further the Atlantic Records legacy.