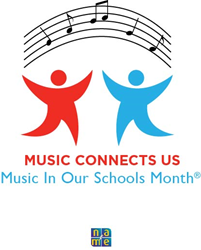 "This year's theme is 'Music Connects Us.' Every day, in classrooms and rehearsal rooms across America, music educators bring that theme to life. And we know from ongoing testimonials that those connections have a profound and positive effect on students and on entire communities."
RESTON, Va. (PRWEB) February 27, 2018
The National Association for Music Education (NAfME) recognizes March as the thirty-third annual Music In Our Schools Month® (MIOSM®). Since 1985, MIOSM has been observed as a yearly month-long celebration when schools and communities celebrate music in their local schools and the educators who dedicate themselves to bringing music into the lives of students every day.
"This year's theme is 'Music Connects Us.' Every day, in classrooms and rehearsal rooms across America, music educators bring that theme to life. And we know from ongoing testimonials that those connections have a profound and positive effect on students and on entire communities," noted Michael J. Blakeslee, NAfME Executive Director and CEO. "To those music program leaders, superintendents, school boards, parents, and local businesses supporting their own schools' music programs, we applaud you for supporting the difference music makes for all students, helping them develop, grow, and connect."
Teachers are encouraged to share on social media how their schools are celebrating music education, using the hashtags #MusicConnectsUs and #MIOSM and tagging "@NAfME".
This year NAfME has worked with Quaver Music to bring MIOSM repertoire for five songs, including animated lyrics videos, lyrics sheets, piano and vocal scores, lead sheets, and backing scores. Additionally, music educators can join in the "biggest school chorus in the world" with American Young Voices, which has provided lesson plans, teaching aims and objectives, sheet music, vocal tracks and more for two songs. NAfME has also provided classroom materials for MIOSM that teachers can share with their students as they learn how "Music Connects Us" and celebrate in their classrooms and schools. All of these items can be obtained at https://nafme.org/MIOSM.
Meanwhile, state music education associations are conducting their own advocacy days this spring at state capitols to support music education for all students. Ensembles are performing at their state capitols and local communities to demonstrate the importance of music education.
Music In Our Schools Month® and MIOSM® are registered trademarks of NAfME, and may not be used for fundraising or materials produced for profit.
National Association for Music Education, among the world's largest arts education organizations, is the only association that addresses all aspects of music education. NAfME advocates at the local, state, and national levels; provides resources for teachers, parents, and administrators; hosts professional development events; and offers a variety of opportunities for students and teachers. The Association orchestrates success for millions of students nationwide and has supported music educators at all teaching levels for more than a century. With more than 60,000 members, the organization is the national voice of music education in the United States.
Follow NAfME on Twitter (http://www.twitter.com/nafme) and on Facebook (http://www.facebook.com/nafme). For additional information, contact Catherina Hurlburt at catherinah@nafme.org or 703-860-4000, ext. 216.