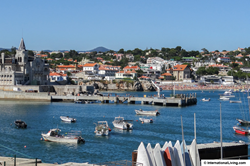 We traded property taxes of $5,000 a year for a tax bill of $279
BALTIMORE (PRWEB) February 28, 2018
"Most folks put a retirement at the beach in the realm of fantasy. Having a place on the ocean, soaking in the sun, spending laidback days with toes in the sand, fishing, diving, sailing, surfing, walking on the beach at dusk with a cocktail in hand...that's a 'rich man's retirement,' in most people's assessment," says IL Executive Editor Jennifer Stevens.
"But in the right places around the world, in fact, Baby Boomers can retire on the coast and live really well, while spending less than it would cost them to stay home."
A new report from the editors of International Living points to a series of beach-town gems in Latin America, Europe, and Southeast Asia where retirees can "live large" on a modest budget.
These towns are all located within countries that appear on International Living's Annual Global Retirement Index 2018—Costa Rica, Panama, Ecuador, Malaysia, and Portugal among them—which offer safe, welcoming, and picturesque beach towns in which expat retirees report that they are enjoying fun, healthy, fulfilling lifestyles on a modest budget.
In the countries compared and contrasted in IL's Annual Global Retirement Index 2018, readers will find many good-value beaches, the editors report. Here are five international picks worthy of note:
There's a saying in Costa Rica: Pura Vida. It basically means "Life is Good." People are content and happy. It's an attitude and a way of life. And this year, for the first time, Costa Rica takes the top spot in InternationalLiving.com's 2018 Global Retirement Index.
The Pacific-coast beach town of Tamarindo is a place of natural abundance, offering fresh produce and seafood, clean air, and more than two miles of golden sand.
Tamarindo is situated within one of the world's "Blue Zones"—areas where people regularly reach the age of 100 in good health. And, expats report, it's a surf town that values fitness and embraces an outdoorsy culture.
"It gave me the impression of a '60s California beach town with surf shops and the waves," says Bill Sherman of what drew him and his wife Pokey to the town. "We both felt very comfortable. There are no high-rises on the beach. You just see trees."
The couple lives in a fifth-floor condo, on a hill that overlooks the beach town as well as the forest along the gold-sand beach and out over the deep blue of the Pacific.
"It's a real joy to wake up and come out here and realize what we've done," says Pokey.
Tamarindo is accessible for a couple on $2,500 a month (housing included), and in addition, Costa Rica offers high-quality but low-cost medical care, good-value real estate, established expat communities, and welcoming locals.
Pedasí, a four-hour trip from Panama City, sits on the tip of the Azuero Peninsula, providing a relaxed setting for expats like Jim Gault and his wife, Abbe.
"Our lives here are a far cry from the hectic existence we lived back in Florida," says Jim.
"Our retirement is a constant buzz of activity, but only because we want it to be. We prefer early mornings with a beautiful sunrise, cool clean breezes, and a low tide to reveal some of the rugged, multi-colored rock formations. Often, we have the beach all to ourselves. During our walk, we plan horseback rides, day trips, playing bingo or cards, or dinner with friends at a nice restaurant."
This is the life they have created for themselves in the small town on Panama's Pacific coast. Unspoiled, dark brown beaches are coupled with often stunning rock formations and warm Pacific waters. Large cattle ranches and corn fields surround the village.
"In many ways, it reminds me of small-town America 50 years ago. Everyone here is so friendly. Walking home in the dark after a nice meal often means walking by a group of teenagers. On a dark street in a U.S. city, that might be scary. Not so in Pedasí. The teens just greet you with buenas noches (good evening).
"We were drawn to Pedasí for its proximity to the ocean; small-town feel; clean, fresh air; the friendliness of its 1,500 inhabitants; and the well-established expat community."
The cost of living in Pedasí is another big plus. The Gaults own their own home and vehicle and Jim says, "I'm collecting my Social Security and we live comfortably on $2,000 a month, including several trips within Panama and one trip abroad per year.
"A beer is $1 to $2 a bottle, our car insurance is just $600 for the year, and we have a housekeeper for just $15 for a half day. I have two different gardeners and several handymen who help me with our home for $5 an hour."
"When my wife Rita and I moved to Ecuador, all we were really looking for was a nice climate," says IL Coastal Ecuador Correspondent, Jim Santos. "After years of shivering through snowy Maryland winters, followed by hot and humid summers, we wanted to live somewhere that is comfortable year-round."
They found this on Ecuador's Pacific coast, in Salinas. The beach is wide, sandy, and clean, bordered by the blue, calm waters. Located at Ecuador's western-most point, Salinas is sometimes called "Little Miami Beach."
Daily costs in Salinas are low. Retirees who move to the relatively small Ecuadorian town, see a huge plummet in expenses with couples living a comfortably on $1,405 per month.
"We knew that we would spend less money, as well," says Jim. "We traded property taxes of $5,000 a year for a tax bill of $279. Our condo maintenance fees in Maryland were $1,000 a month; in Salinas, just $197.
"But we didn't expect that living overseas would improve our health."
Only two degrees south of the equator, Salinas is a great place for those who want to escape the long, cold North American and Canadian winters. The sunny season goes from mid-December through April. The warmest waters are between January and March making it a perfect beach destination for an active lifestyle.
When the Santos' first started to think about moving overseas in 2012, Jim was morbidly obese, weighing 319 pounds at one stage. He took two different medications a day for Type II diabetes, and one for high blood pressure.
"Moving to Ecuador changed everything. After a few months, I'd lost 25 pounds. By the end of the first year, I was down another 10 pounds, and I had to reduce the dosages on my diabetes medications to prevents sugar lows.
"All of this has come about without a fad diet or rigorous exercise plan, without daily visits to the gym—although there is a very nice one in our condo building—but simply through enjoying the healthier lifestyle we naturally have here on the beach."
One of the oldest outposts of the former British Empire, Penang delivers 110 square miles of tropical treasures. It offers a perfect balance of nature and sophisticated amenities that make it a wonderful haven for expats. It boasts lush jungle-covered hills bursting with wildlife, as well as fancy modern high-rises and pristine beaches.
Attracted by the relaxed lifestyle and enticing low living costs, retirees from across the globe have settled here. And almost everyone speaks English, so communicating is easy.
In 2010, Larry John from British Columbia, Canada, paid $142,000 for his three-bedroom, two-bathroom condo with a sea view in Penang. It's off a tree-lined street in a well-kept, gated development, with a top-of-the-line gym and swimming pool.
"In Canada, to find something similar to what I have now, with an Olympic-size swimming pool, wading pool, Jacuzzi pool, tennis court (which can be used year-round), gym, games room, and conference and meeting rooms, would cost at least 50% more, with much higher condo fees and property taxes," he says.
"The cost of living is low, and the multitude of shopping malls and restaurants makes Penang a great place to retire," says Larry. "But the 10-year MM2H visa is probably the biggest benefit that Malaysia offers."
Larry's budget—and he's living well on it—is less than $1,600 a month, now that he owns his own home. "It's great for those on a fixed income or self-financing their retirement," he says.
Rated the third-safest country in the world in the 2017 Global Peace Index, Portugal is not only secure, but beautiful.
Cascais is a beach haven about 20 minutes from the capital, Lisbon. With its boutique-lined streets and many art vendors and vintage carousels, this town is like something out of a storybook. Yet its sunny shores, friendly inhabitants, and modest prices are no fantasy.
In summer, the average daytime high here is 73 degrees with low of 63. And in the winter, it's almost always about 50 degrees. You can golf nearby, and favorable wind conditions make the stretch of coast along here ideal for sailing, surfing, kite-surfing, and windsurfing, too. Plus English is widely spoken.
Here you can rent a condo from about $750 month. A light-filled two-bedroom place with a sea view—fully renovated and furnished—right near all the conveniences you could need and a 10-minute walk to the train station rents for $1,114.
One of IL Portugal Correspondent Tricia Pimental's favorite spots is Conceição, the beach closest to the town of Cascais. She says, "Its impressive former fortress, now a five-star hotel, overlooks a bay dotted with bobbing fishing boats. Visit once and you'll see why it's called 'the Portuguese Riviera.'
"Living outdoors here is easy, thanks to the generous climate."
Annette Ford Rio who lives in Cascais echoes these sentiments. She said, "The blue-green water is absolutely fantastic with the sun shining on the sea; it's as if diamonds are dancing on it. The sunrise and sunsets are fabulous."
This beach town is one of Europe's best-kept secrets...and on $2,500 a month, a couple could live very comfortably here.
More details can be found here: Annual Global Retirement Index 2018
Editor's Note: Members of the media have permission to republish the article linked above once credit is given to InternationalLiving.com.
Further information, as well as interviews with expert authors for radio, TV or print, is available on request. Photos are also available.
For information about InternationalLiving.com content republishing, source material or to book an interview with one of our experts, contact PR Managing Editor, Marita Kelly, +001 667 312 3532, mkelly@internationalliving.com
Twitter: @inliving
Facebook: https://www.facebook.com/International.Living/
About International Living
For 37 years, InternationalLiving.com has been the leading authority for anyone looking for global retirement or relocation opportunities. Through its monthly magazine and related e-letters, extensive website, podcasts, online bookstore, and events held around the world, InternationalLiving.com provides information and services to help its readers live better, travel farther, have more fun, save more money, and find better business opportunities when they expand their world beyond their own shores. InternationalLiving.com has more than 200 correspondents traveling the globe, investigating the best opportunities for travel, retirement, real estate, and investment.