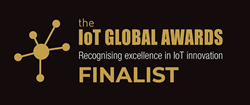 "We are honored to be recognized by the IoT Global Awards as one of the most innovative IoT products in the Connected Consumer and Smart Home, and Connected Health or Wearable Tech industries." ~ Jacob Babcock, CEO, NuCurrent
CHICAGO (PRWEB) February 28, 2018
NuCurrent, an industry leader in wireless power systems and technology development, announces that the IoT Global Awards has named NuCurrent a finalist for two 2018 IoT Product / Service of the Year categories. NuCurrent is a finalist for the Connected Consumer and Smart Home, and Connected Health or Wearable Tech categories. Winners for each of the 12 award categories will be announced at the Smart IoT London event at ExCeL on March 21.
The IoT Global Awards showcase the most innovative IoT applications, or the apps that are most valuable or beneficial (to both user and provider) and which advance the cause of the Internet of Things (IoT). All award finalists are selected by a panel of accomplished judges comprised of leading industry and subject matter experts, analysts, directors, CEOs and academics. Other IoT Global Awards category finalists include SAP, Comcast and Intel's Wind River.
"In the inaugural year of the IoT Global Awards it is inspiring to see so many exciting Internet of Things products already in service," says Jeremy Cowan, Editorial Director of IoT Global Network, the site behind the Awards. "We have been truly impressed by the hard work and ingenuity that has gone into so many IoT applications submitted to us by organizations worldwide. The Shortlisted Entries met our strict selection criteria and will now be assessed by an unrivalled Judging Panel of IoT Experts."
"We are honored to be recognized by the IoT Global Awards as one of the most innovative IoT products in the Connected Consumer and Smart Home, and Connected Health or Wearable Tech industries," said Jacob Babcock, CEO, NuCurrent. "As we move toward a world filled with a large number of IoT devices distributed all around us, the means to power these devices is becoming a huge problem. Wires are impractical and batteries require constant replacement and add cost, size and weight. That's why engineers and product managers are looking to build advanced wireless charging capabilities into their products, and continue to turn to NuCurrent because we have the core technology and systems integration expertise to bring products with superior wireless charging performance to market quickly."
NuCurrent was recently named 2017 IoT Breakthrough Awards winner (Machine-to-Machine (M2M) Embedded Hardware Company of the Year) for the second consecutive year, a 2017 FLEXI Award winner (Product Innovation Award), 2017 Fourth Revolution Awards Finalist (Product Design of the Year), and 2017 ITA CityLIGHTS Awards Finalist (Industry Disrupter). The wireless power company was also named a 2017 Timmy Awards Finalist (Best Technology Work Culture), 2017 Chicago Innovation Awards Finalist, and a Chicago Inno 2016 50 on Fire winner. NuCurrent was also named No. 1 on the 2015 Crain's Chicago Business Eureka Index with the highest per-capita patent output of any company in Illinois. The company was also listed in the top 10 percent overall in patent quality score, which considers the uniqueness of the invention covered by a patent and other important factors.
To view the IoT Global Awards 2018 shortlist, visit http://www.iot-now.com/2018/02/22/77472-entries-shortlisted-nominees-iot-global-awards-2018. To learn more about NuCurrent, please contact info(at)nucurrent(dot)com or visit http://nucurrent.com.
About NuCurrent
NuCurrent delivers breakthrough wireless power solutions to product teams through its expertise in wireless power technologies and full-system integration. The company's core technologies include its patented MLMT antennas – which are the industry's thinnest and most efficient (highest Q) – along with proprietary software that accelerates successful wireless power solution development through advanced hardware simulation and firmware control. NuCurrent's engineering team applies these core technologies in partnership with client product teams to produce complete wireless power solutions on the Qi and Airfuel Standards and within closed, proprietary systems. Founded in 2009, the venture-backed, Chicago-based company has over 65 patents granted or pending worldwide. For more information, visit http://nucurrent.com and follow us on Twitter at @NuCurrentTweets.