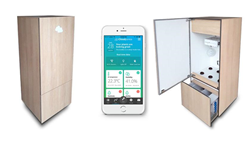 SAN FRANCISCO (PRWEB) March 01, 2018
Cloudponics, maker of the GroBox, the intelligent, fully-automated IoT aeroponic plant grow system for the home, today announced a pre-order campaign to help make its two products, the GroBox and GroControl, available for European customers.
The first customers from Europe enrolled in the Cloudponics pre-order campaign will receive a discount of $290 off of the GroBox, which normally retails for $2490. Customers can pre-order now for just $2200 - paying $1200 now and $1000 when ready for shipping. The Cloudponics GroControl, normally $1490, can be pre-ordered now for just $1200. Users pay $600 now and $600 when ready for shipping.
This new Cloudponics program in Europe will also allow local hydroponic stores and smoke shops to be part of the Cloudponics reseller network. Cloudponics will also start local marketing, partnership development, distribution and on-the-ground customer support in the region.
The GroBox and GroControl will be available for sale starting in the following countries: Austria, Belgium, Czech Republic, Denmark, Finland, France, Germany, Greece, Ireland, Italy, Luxembourg, Netherlands, Norway, Poland, Portugal, Spain, Sweden, Switzerland, and the United Kingdom.
Homegrowing is a way for cannabis consumers and patients to keep more money in their pocket through controlling the quality and quantity of their supply. While the typical street price of cannabis in the United States is $10-15 per gram of marijuana, in Europe, prices are often even greater and vary widely. Norway and Finland, for example, show costs ranging from $20-25 per gram, with nations like Cyprus, Malta and Iceland spiking to $25-35 per gram.
"After a successful year of selling and delivering the GroBox and GroControl in the USA we will come to Europe this summer," said Pepijn Van Der Krogt, Co-Founder, Cloudponics. "We hope to spread the viability and joy of home growing across the EU, especially in regions in which prices are the highest or in which availability is limited."
The GroBox intelligently monitors and manages multiple variables such as air temperature, nutrients, humidity, water flow, airflow, light schedule and pH balance in order to create and sustain the optimal conditions for consistent, predictable, and repeatable yields. The GroBox can be paired with the Cloudponics app for 24/7/365 oversight and can run for up to 3 weeks before a water refill. Here's a link to a Livestream of the GroBox fully automated grow system.
Whether for legal recreational or medicinal use, the GroBox is simple yet flexible enough that anyone from a beginner to an experienced grower can cultivate up to 10 ounces (280 grams) of high-quality plants in about three month's time from the convenience, comfort and safety of their home.
The Cloudponics technology can be used to grow a variety of plants and produce, however, the GroBox has been designed specifically for the unique needs of cannabis growers, with special features designed to ensure the security and discretion of your plants, such as an odor filter, app controlled door lock and lights specifically designed for growing cannabis.
About Cloudponics
Cloudponics is the IoT system for autonomously growing high-yielding, high quality plants. Cloudponics' GroBox system intelligently creates the ideal growth conditions for consistent, predictable, and repeatable yields of cannabis. The GroControl is Cloudponics' automated controller that allows growers to remotely monitor and automate any size of indoor grows with nutrient dosing, pH sensoring and climate control. Founded in 2015 and lead by entrepreneurs Pepijn van der Krogt and Nicolas Ruiz, Cloudponics is headquartered in San Francisco. For more information, visit http://www.cloudponics.com or follow us on Twitter, Instagram and Facebook.
Media Contact:
Mike Sanchez
Wise Public Relations for Cloudponics
415-851-0132
cloudponics(at)wisepublicrelations(dot)com