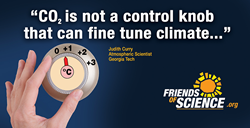 Motivated by the precautionary principle to avoid dangerous anthropogenic climate change, attempts to modify the climate through reducing CO2 emissions may turn out to be futile
Calgary, Alberta, Canada (PRWEB) February 28, 2018
As Edmonton, Alberta prepares for the IPCC Cities and Climate Change Science conference, Mar. 5-7, 2018, Friends of Science Society announces a new billboard campaign, using themes from previous campaigns that stirred significant controversy, as reported in SLATE, June 12, 2014.
Friends of Science says the billboards are meant to stimulate open, civil debate on climate change and the cost-benefits of various programs.
One billboard quotes atmospheric scientist Dr. Judith Curry's statement that "CO2 is not the control knob that can fine tune climate…" which was part of her January 16, 2014, US Senate testimony, commenting on the Intergovernmental Panel on Climate Change (IPCC) AR5 report and Obama's Climate Action Plan. She noted at the time that the latest report weakened the case for human causation of global warming. Natural factors like cycles of the sun and oceans had been underestimated. She said that "Motivated by the precautionary principle to avoid dangerous anthropogenic climate change, attempts to modify the climate through reducing CO2 emissions may turn out to be futile."
Global atmospheric temperatures as measured by satellites have increased by less than half of that projected by computer simulations (known as 'climate models') since 1978, proving that the models are faulty and over estimate how much CO2 emissions affect temperature.
A second billboard addresses the question of whether it is the sun or carbon dioxide (CO2) that drives climate change, asking viewers to consider that question. As reported by James Delingpole of Breitbart on Oct. 24, 2017, more than 400 academic papers now say anthropogenic global warming is a myth or exaggerated and of those, 106 say that the sun is the main driver of climate change.
As reported on the blog "No Tricks Zone" on Jan. 04, 2018, there were 485 scientific papers published in all of 2017 that support the skeptical position on climate. On Feb. 26, 2018, the No Tricks Zone blog reported that there were another 97 scientific paper published so far in 2018 that support the skeptical position on climate.
The third billboard message states: "Science is about inquiry, not compliance." Friends of Science hope to remind the public that Freedom of Speech is paramount in society and more so in science. As shown in their new bilingual plain language website, ClimateChange101.ca, "Rational Dissent - It's Your Right."
Friends of Science says humans do affect climate and the environment – mostly in regional and urban patterns – however, adaptation and mitigation of impact are more effective places to invest money – decarbonization is wasteful and not supported by the current scientific evidence that the sun and natural cycles of the ocean drive climate change.
About
Friends of Science Society is an independent group of earth, atmospheric and solar scientists, engineers, and citizens who are celebrating its 16th year of offering climate science insights. After a thorough review of a broad spectrum of literature on climate change, Friends of Science Society has concluded that the sun is the main driver of climate change, not carbon dioxide (CO2).
Friends of Science Society
P.O. Box 23167, Mission P.O.
Calgary, Alberta
Canada T2S 3B1
Toll-free Telephone: 1-888-789-9597
Web: friendsofscience.org
E-mail: contact(at)friendsofscience(dot)org
Web: climatechange101.ca