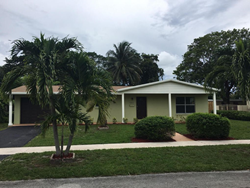 FCLF's commitment to the community has been strong, and R.E.A.C.H. is thankful for the increase. It will allow R.E.A.C.H. to have more of a social and economic impact in local communities Michael Roberts, Executive Director-R.E.A.C.H.
PALM BEACH GARDENS, Fla. (PRWEB) March 14, 2018
R.E.A.C.H. – or Real Estate Education and Community Housing – was founded in 2006 with a mission to inspire and motivate low to moderate income members of the community to reach for, and take, the necessary steps to achieve and sustain home ownership. The organization acquires foreclosed or donated properties and renovates them to offer for sale to low-income families. With financing and staff expertise from the Florida Community Loan Fund (FCLF), In 2017 R.E.A.C.H. rehabbed 24 properties. When renovation is completed on a home, chances are good that REACH will have worked with a family who is ready to purchase that home. As a HUD approved counseling agency, R.E.A.C.H. has assisted thousands of families over the last 4 years with homebuyer education and homeownership for hundreds.
With flexible financing from Florida Community Loan Fund and an increase to R.E.A.C.H.'s line of credit to $3 million, R.E.A.C.H. will continue to acquire homes, renovate them, and sell to qualified families. With this FCLF line of credit, R.E.A.C.H. anticipates it will rehab 30+ homes in 2018. These homes will be primarily in Palm Beach, Broward, and Miami-Dade Counties, reducing the inventory of blighted and abandoned properties in these South Florida Communities. To learn more about Florida Community Loan Fund, and how they impact social and economic change in Florida please visit http://www.fclf.org