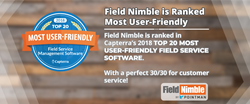 "We were excited and honored to be ranked so highly against our peers, and we will strive to keep our software user-friendly and excellent all around!" ~Steve Kiernan II, CEO/Co-Founder
BUFFALO, N.Y. (PRWEB) March 02, 2018
Field Nimble, a field service management software and the flagship product by Pointman, was ranked in Capterra's list of the Top 20 User-Friendly Field Service Management Software. Field Nimble was graded with a perfect 30/30 for customer service. With over 400 products in the Field Service Management Software category, being ranked in the Top 20 placed Field Nimble in the top 5% of Field Service Management Software.
Capterra,a subsidiary of Gartner, helps businesses find the best software by allowing them to "read real user reviews, compare products, and get the latest software research to find the right solution for your business." They are used by millions of people each month looking for the perfect business software. They rank their software using an algorithm that weighs different key features, and the reviews given by users. The content for the Top 20 report is derived from independent research and user testing; end-user reviews and ratings; and vendor-supplied and publicly available product and company information that is applied against a documented methodology. The results do not constitute an endorsement by Gartner or any of its affiliates.
"I'm extremely proud of the Pointman team for this accomplishment. From the developers who work on Field Nimble every day, to the customer success team who go above and beyond to make the customer experience as easy as possible, everyone here has contributed to this achievement." He continues, "We were excited and honored to be ranked so highly against our peers, and we will strive to keep our software user-friendly and excellent all around!"
Field Nimble by Pointman is field service management software and mobile app that manages day-to-day tasks for small contracting business. Field Nimble enables both field technicians and office administrators to communicate in real time for scheduling, job alerts, customer contact info and service history, field invoicing, and payment processing. Field Nimble gives business owners access customer history, notes, photos, and previous service proposals. It offers easy onboarding of new field techs, without needing additional administrative staff. It also integrates with a business's existing systems and workflows, such as QuickBooks, Google's G-suite, and navigation/GPS apps.
For additional information, please contact:
Jennifer Hillman, Vice President of Marketing
Phone: 716-408-8744 | hillman(at)pointmanhq(dot)com
http://www.pointmanhq.com
About Pointman
Pointman is a SaaS company that creates field service management software and mobile apps for residential and light commercial contractors. Founded in 2006, Pointman's flagship products are Field Nimble and SWRemote, which are used by thousands of contractors in the plumbing, electrical and HVAC industries.
Pointman's software and mobile apps are easy to deploy and simple to use; giving small business owners just what the need, more time