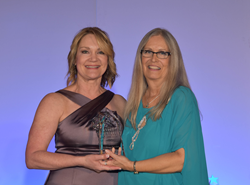 "We believe that our certification as a woman-owned enterprise has opened the door to major corporations who value vendor diversity." Cathi Coan, President and CEO, Techway Services
FARMERS BRANCH, Texas (PRWEB) March 01, 2018
Techway Services is pleased to announce that The Women's Business Council – Southwest (WBCS), has named Techway Services the Women's Business Enterprise (WBE) of the Year for the 5 to 20-million-dollar category. This award recognizes a woman-owned business that exemplifies outstanding business acumen, industry leadership, community service, and a commitment to doing business with fellow WBEs. The 2018 WBCS award winners were unveiled at the annual Parade of Stars Awards Gala on February 1st, and the recognition continues throughout the year.
Cathi Coan, President and CEO stated "we are excited to be named WBE of the Year. We believe that our certification as a woman-owned enterprise has opened the door to major corporations who value vendor diversity. Once the door was opened, we earned their trust and continued business. Our entire team shares this honor." Techway was first certified in 2005 with only 5 employees and a local footprint. Today, through engagement with WBENC and WBCS, Techway has grown more than tenfold to a multi-national corporation with more than 50 employees. Clients such as DellEMC, HBO, GameStop, HealthTrust and CoreTrust turn to Techway as a trusted partner for IT Asset Recovery and Recycling Services.
Techway Services Inc. is an end-to-end solution provider of total asset lifecycle management, risk mitigation and end of life services for IT and telecommunications equipment for corporations, government entities, channel partners and universities. Services include chain of custody controls from point of shipment through final disposition, onsite data eradication, reverse logistics, asset liquidation, responsible recycling, and managed services to deliver project management, deployment and staff augmentation.
Techway Services has achieved the following industry certifications: ISO 9001:2015, ISO 14001:2015, OSHAS 18001:2007, Responsible Recycling (R2) REV. 7/2013.
"Congratulations to Techway Services for winning one of our highest awards, WBE of the Year," said Debbie Hurst, President of the Women's Business Council – Southwest. "Our award winners are those who go above and beyond to support the Council and the mission of growing women-owned businesses and I cannot wait to see how Techway Services grows in the future."
About Techway Services
Techway Services is a nationally recognized leader in IT and Telecommunications equipment asset recovery and recycling. Founded in 2004 and headquartered in Farmers Branch, Texas, Techway is a tier one partner to several Fortune 500 companies. The managed deployment and asset recovery services program philosophy was designed as an end to end solution to simplify the customer journey, minimize touch points, reduce complexity and manage cost is a key differentiator for Techway. For more information, please visit http://www.techwayservices.com.
About WBCS
Headquartered in Irving, Texas, the Women's Business Council – Southwest (WBCS) is dedicated to increasing mutually beneficial procurement opportunities between certified woman-owned businesses, corporations, businesses, government entities, institutions and other organizations. With more than 1,200 Women Business Enterprise (WBE) Members and over 80 Sustaining (Corporate) Members, WBCS is in its 23rd year of providing national certification to women-owned businesses. WBCS administers the national certification on behalf of the Women Business Enterprise National Council (WBENC) for north and central Texas, Oklahoma, Arkansas, and New Mexico. To find out more about WBCS, please visit http://www.wbcsouthwest.org.