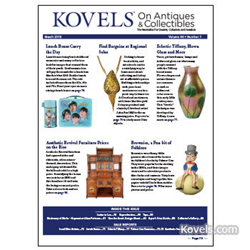 CLEVELAND, Ohio (PRWEB) February 28, 2018
Vintage lunch boxes from the 1950s, '60s and '70s sold at a winter auction and are featured in a sale report in Kovels On Antiques & Collectibles March 2018 newsletter. More than 100 lunch boxes were offered that, no doubt, brought back many childhood memories. Prices started at $62 for a 1964 Hector Heathcote lunch box that had the original thermos. A 1954 Superman box without its thermos brought the highest price of more than $18,000.
More than 50 items from a single collection of "Brownies" sold at a doll auction in California. The mischievous fairy-like characters with big eyes and skinny legs were introduced in 1880s children's books and magazines by Canadian author and illustrator Palmer Cox. Kovels' March newsletter pictures Brownie figurines as well as a candy container, clock, stein and smoking set that all have Brownie decorations. And the Kovels encourage new collectors to look "in their own backyards" for local art and one-of-a-kind buys by focusing on an assortment of pottery and jewelry pieces made by Cleveland artists and found at a Cleveland auction.
When people hear the name Tiffany, silver, jewelry and those little blue boxes come to mind. Kovels' March newsletter features early-1900s' Tiffany glass that was auctioned in Boston. Pictured with prices are Favrile vases, the iridescent art glass made using a process developed by Louis C. Tiffany in 1894. See the top lot – a red Favrile vase with gold iridescent decoration – that sold for $33,210, and others. Kovels' March newsletter also highlights furniture from the Aesthetic Movement, 1860s to 1890s, when makers favored squared lines and naturalistic decoration often based on Japanese art. A Connecticut auction recently sold pieces for prices ranging from $875 to just under $12,000. Kovels' latest issue pictures useful examples with elaborate inlaid designs.
Terry Kovel goes "on the road" to the Design Miami show and pictures some things that especially drew her attention. Find a modern, and pricey, reproduction of the famous "Rabbit Waiter" pin by jeweler Raymond C. Yard. Kovels' popular illustrated Collector's Gallery answers readers' questions about a British pottery mark, folk art handkerchiefs, "Little Oz Books" with jigsaw puzzles and a Martha Washington sewing cabinet. March's Dictionary of Marks lists illustrations of Depression glass patterns. And more than 70 antiques and collectibles are listed in March's Buyer's Price Guide.
Kovels On Antiques & Collectibles is available as a print subscription, or as a digital version that is part of the Kovels.com Premium subscription.
Terry Kovel is America's foremost authority on antiques and collectibles. She is the well-known columnist and author of more than 100 books on antiques and collecting. The 2018 / 50th anniversary edition of Kovels' Antiques & Collectibles Price Guide is currently available at Kovelsonlinestore.com and local bookstores. Terry Kovel will discuss antiques and collectibles topics with accredited media. Photographs are available. Contact pr(at)kovels(dot)com.
About Kovels.com
Kovels.com, created by Terry Kovel and her daughter, Kim Kovel, provides collectors and researchers with up-to-date and accurate information on antiques and collectibles. The company was founded in 1953 by Terry Kovel and her late husband, Ralph. Since then, the Kovels have written some of America's most popular books and articles about antiques, including the best-selling annual Kovels' Antiques & Collectibles Price Guide. The website, Kovels.com, online since 1998, offers more than a million free prices, and includes a free weekly email, "Kovels Komments." It gives readers a bird's-eye view of the market through the latest news, auction reports, a Marks Dictionary, readers' questions and answers and much more.
Contact Information:
Liz Lillis
216.752.2252
Pr(at)kovels(dot)com