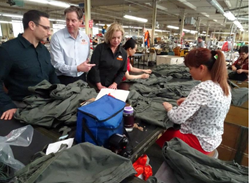 TRENTON, N.J. (PRWEB) March 01, 2018
SWILTIK Parachute Company, Inc./DBA SWITLIK Survival Products is the world's largest qualified manufacturer of CSU-13 B/P and CSU-15 A/P Anti-G suits for the U.S. Air Force and Navy. SWITLIK is pleased to announce a partnership with Life Support International, Inc. (LSI) in which LSI will become the exclusive stocking distributor of SWITLIK Mil-spec Anti-G suits for all international governmental requirements. Stocking SWITLIK Anti-G suits in their headquarters in Langhorne, Pennsylvania allows LSI the ability to easily service all international customers with little to no lead-time. This ultimately will allow LSI and SWITLIK to expand international sales of this speciality aircrew survival garment.
The CSU-13 B/P and CSU-15 A/P the anti-gravity suits are worn by aviators of high performance aircraft to counteract the effects of G forces. It is a wraparound garment with an internal inflatable bladder which compresses the abdomen and legs of the wearer during G induced flying maneuvers.
Christina Belmonte, Vice President of LSI, stated:
"LSI is pleased to align itself with Switlik Survival Products, a local manufacturing company with a long history of high-end governmental survival product design and manufacturing. We look forward to promoting and providing superior customer service for the sale of G Suits!"
Anthony Florio, SWITLIK Director of Sales, commented:
"SWITLIK has had a long relationship with LSI as one of our best dealers for our line of military and commercial aviation products. One of their great strengths is their extensive international dealer network which ultimately weighed heavily in our decision to partner with them for exclusive Anti-G suit distribution. Additionally, LSI was a natural fit for partner as we both share similar corporate philosophies which makes working with them extremely easy."
About SWITLIK
Established in 1920, SWITLIK has been owned and operated by the Switlik family for four generations and is known worldwide as a manufacturer of the highest quality sewn and heat sealed inflatable safety and survival products for the aviation, marine, and military markets.
About LSI
The products and services LSI offer are the last line of defense in the event of an emergency and can make a difference between disaster or coming home safely. LSI is dedicated to providing superior customer service, rapid response and providing the best possible equipment solutions for customers and the hazardous environments in which they operation; air, sea, land.