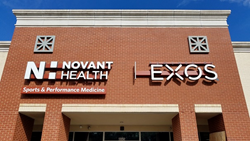 "Novant Health Sports & Performance Medicine powered by EXOS builds on our commitment of providing world-class health care and services in the communities we serve."
CHARLOTTE, N.C. (PRWEB) March 01, 2018
Novant Health has expanded its partnership with EXOS, a leader in human performance, to bring performance training programs and services to south Charlotte. The performance facility, Novant Health Sports & Performance Medicine powered by EXOS, is a state-of-the-art space dedicated to providing youth, high school and adult athletes of any fitness level with comprehensive performance training.
The new Novant Health Sports & Performance Medicine powered by EXOS is located at 8045 Providence Road, Suite 100, in the Arboretum area. Novant Health first engaged EXOS to bring performance training programs and services to the Charlotte area with the opening of its Huntersville location in 2017. The 10,000-square-foot EXOS facility is located along with Novant Health Rehabilitation at 13245 Reese Boulevard West in Huntersville, North Carolina.
With an emphasis on the four pillars of performance – mindset, nutrition, movement and recovery – EXOS' performance specialists, physical therapists, athletic trainer and registered dietitian complete a client's performance team. In addition to performance training, the facility also offers nutrition consultations with a registered dietitian and sports medicine services including physical therapy and sports injury care.
"By combining Novant Health's sports medicine expertise with EXOS' highly skilled team of performance specialists, we have established a premier program that will greatly benefit school age and professional athletes, as well as active adults," said Dr. Eric Warren, medical director of Novant Health Sports Medicine. "Novant Health Sports & Performance Medicine powered by EXOS builds on our commitment of providing world-class health care and services in the communities we serve."
To celebrate the grand opening, EXOS is offering free classes to the public at the Arboretum location until Friday, March 2, from 5 a.m. to 7 p.m. Community members are encouraged to come meet the staff, learn about the programs and classes offered and tour the brand-new facility. To sign up for a free class, register online at novanthealth.org/EXOSopenhouse.
For more information about Novant Health Sports & Performance Medicine powered by EXOS, contact EXOS(at)novanthealth(dot)org or visit novanthealth.org/EXOS. Follow us @NHathlete on Facebook, Twitter and Instagram.
About Novant Health
Novant Health is an integrated network of physician clinics, outpatient facilities and hospitals that delivers a seamless and convenient healthcare experience to communities in Virginia, North and South Carolina, and Georgia. Named in 2016 by Becker's Hospital Review as one of the nation's 150 best places to work in healthcare, Novant Health network consists of more than 1,500 physicians and over 26,000 employees that provide care at over 470 locations, including 14 medical centers and hundreds of outpatient facilities and physician clinics. Headquartered in Winston-Salem, North Carolina, the health system serves more than 4.4 million patients annually and in 2016 provided more than $725.5 million in community benefit, including financial assistance and services. Diversity MBA has recognized the organization as one of the 50 best places for women and managers of diverse background to work and SK&A ranks Novant Health among the top 25 integrated health systems in the nation. In 2017, the magazine Hospitals & Health Networks also recognized Novant Health as one of the country's "Most Wired Hospitals." Novant Health provides care in Virginia under the joint operating company, Novant Health UVA Health System.
For more information, please visit our website at NovantHealth.org. You can also follow us on Twitter and Facebook.
About EXOS
EXOS is pioneering human performance. Founded in 1999 to maximize the potential of athletes, EXOS (formerly named Athletes' Performance) has grown to become a leader in health and performance, trusted by elite athletes, the military and innovative companies worldwide. EXOS designs and delivers proactive health and performance game plans that guide people to higher levels of success. With world-class partners, facilities, technologies, and specialists spanning six continents, EXOS is progressing the intelligence behind human performance wherever necessary. To learn more, visit teamexos.com.
###