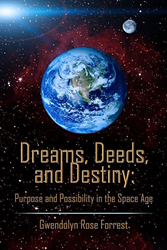 "I would recommend 'Dreams, Deeds, and Destiny: Purpose and Possibility in the Space Age' by Gwendolyn Rose Forrest to anyone who enjoys poetry and/or philosophy." – 5-Star Readers' Favorite Review by Gisela Dixon
(PRWEB) March 01, 2018
Do you want to begin or accelerate the pursuit of your dreams and do the deeds required to realize the destiny you desire? If so, "Dreams, Deeds, and Destiny: Purpose and Possibility in the Space Age" is for you. In these turbulent times of economic instability, social insecurity, and personal vulnerability, there is a need for a philosophical worldview from a cosmic perspective. This book delivers the philosophy in easy to understand poetic language.
Readers' Favorite awarded "Dreams, Deeds, and Destiny: Purpose and Possibility in the Space Age" five stars out of five stars and recommends it stating: "The topics…broadly fall under…the meaning of life and how to find purpose in it… The underlying theme is philosophical in nature and provokes one to pause and reflect on life and the universe. Although the subject matter at times is deep and thought-provoking, the language of the poetry is very simple and easy to understand…"
As your dreams and deeds are the fuel that get you to your desired destiny, simply incorporate an affirmation, meditation, or observation from this empowering book into your daily activities and stay on track until your dreams are realized. "…with dreams, deeds, and the cosmos daily, designing your evolving destiny, your life's tragedy is not that you die; It's using fuel, too feeble, to fly (Excerpted from 'Dreams, Deeds, and Destiny: Purpose and Possibility in the Space Age')."
"This book is not only a fascinating read but clears a path for understanding the future in difficult times. We are thrilled to announce its release," said Robert Fletcher, CEO of Strategic Book Publishing and Rights Agency.
About the Author: Gwendolyn Rose Forrest was born and educated in Detroit. Writing has always been an integral part of her life. She is a former social worker, civil rights/human rights advocate, and employment/training project director. While director of research for the Michigan Wayne County Charter Commission, she helped write the county's first home-rule charter. She was also an economic development administrator in Georgia. As a certified fundraising executive in Michigan, Oregon and Illinois, she helped colleges and universities achieve financial goals. The author holds a bachelor's degree in sociology and a master's in public administration. She currently resides in the Detroit metropolitan area.
DREAMS, DEEDS, AND DESTINY: PURPOSE AND POSSIBILITY IN THE SPACE AGE (ISBN: 978-1-62212-536-4) is now available for $22 and can be ordered through the publisher's website:
http://sbpra.com/GwendolynRoseForrest or at Amazon.com or Barnesandnoble.com.
WHOLESALERS: This book is distributed by Ingram Books and other wholesale distributors.Contact your representative with the ISBN for purchase. Wholesale purchase for retailers, universities, libraries, and other organizations is also available through the publisher; please email bookorder(at)sbpra(dot)net.