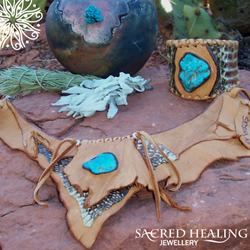 Each piece that is created holds a specific energetic signature that is waiting to connect with the right wearer.
SEDONA, Ariz. (PRWEB) March 01, 2018
Shamangelic Healing of Sedona, Arizona announces the expansion of its Sacred Healing Jewelry offerings by Phoenix Two Moons, of the Tsa-La-Gi Nation. These one-of-a-kind healing creations and wearable works of art are handcrafted in sacred ceremony and designed with meticulous craftsmanship and distinctive artisan detail from natural materials that preserve nature's beautiful variations to support intuition and healing.
"We are honored to bring these beautiful, sacred healing necklaces, bags, cuffs and wands directly to the public," said Anahata Ananda, founder of Shamangelic Healing. "Each piece that is created holds a specific energetic signature that is waiting to connect with the right wearer."
Master leather worker and artist, Phoenix Two Moons of the Tsa-La-Gi Nation, captures the restorative essence of the Sedona landscape in her healing pieces. Natural stones and harmonizing elements echo the timeless splender and medicine of the American Southwest, and emanate the energetic renewal and rebirth that embodies the soul of Sedona.
Sacred Healing Jewelry works with artisans around the world whose core value is integrity in workmanship that comes from mastering a craft of the heart while having the courage to trust in the gentle whispers of Spirit to guide their designs. They believe that both the piece and the wearer choose one another. For this reason, Sacred Healing Jewelry is not sold online, as part of the magic is the experience of discovering the piece that is calling its wearer.
The Shamangelic Healing Center joins a select group of Sedona retailers offering creations by Phoenix Two Moons. Clients often find a special piece calling them during a healing session with Anahata. These collectible pieces are also in high demand by other healers and practitioners who attend Shamangelic Healing's Sedona Courses.
Anahata Ananda has trained extensively with gifted shamans, energy healers and spiritual teachers from around the world to artfully integrate the fields of spirituality, energy healing, self-empowerment and shamanic teachings. Her client-base spans the globe with individuals from all walks of life who are seeking to heal and awaken to their fullest potential.
Anahata offers a variety of Shamangelic Healing services year-round in Sedona, Arizona including private sessions, sacred land journeys and training courses that incorporate Shamanic teachings and other energy healing modalities. She also offers Tailored Retreats for individuals, couples and small groups that can include a combination of offerings based on various needs and areas of interest.
Shamangelic Healing is a premier center for Shamanic healing and spiritual awakening in Sedona. It is nestled beneath Thunder Mountain with breathtaking views and within walking distance to a medicine wheel and healing vortexes, making it the perfect setting for healing and expansion.
For detailed descriptions and a calendar of all training courses and spiritual awakening services offered by Anahata visit http://www.shamangelichealing.com/