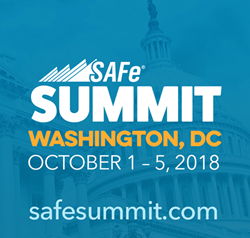 The acceleration of SAFe adoption across the globe is driving us to evolve this conference far beyond the basic practice of SAFe
BOULDER, Colo. (PRWEB) March 01, 2018
Scaled Agile, Inc., provider of the world's leading framework for enterprise agility, today announced open registration for the upcoming 2018 Global SAFe Summit, which will take place from October 1 - 5 in Washington, DC. With over 1,500 attendees expected, the five-day event will be the world's largest gathering to focus exclusively on the Scaled Agile Framework® (SAFe) and its community of practice.
The 2018 Global SAFe Summit is a 'big tent' event for everyone engaged with SAFe—practitioners, instructors, consultants, Scaled Agile Partners, and enterprise business leaders. The event will feature a dedicated Partner day, pre- and post-conference training and workshops, and a two-day main conference. Attendees will have opportunities to build skills, exchange knowledge, network with each other, connect with thought leaders and influencers, and see first-hand how enterprises are leveraging SAFe to continuously deliver value to their customers. 
"The acceleration of SAFe adoption across the globe is driving us to evolve this conference far beyond the basic practice of SAFe," said Dean Leffingwell, creator of SAFe and Chief Methodologist at Scaled Agile, Inc. "In addition to providing foundational content that will support practitioners throughout their SAFe journey, we're also offering a generous helping of advanced training and guidance designed to help enterprises tackle their most complex development and delivery challenges."
Described as being "all things SAFe, all in one place," the 2018 Global SAFe Summit combines three key events:
—September 30 - October 2 & 5 Pre-conference classes and Post-conference workshops:
Training opportunities cover a wide range of topics and SAFe applications for all skill levels. Pre-conference classes and certifications include: SAFe Release Train Engineer, SAFe Agile Software Developer, SAFe DevOps, SAFe for Government Programs, SAFe Advanced Scrum Master, SAFe Product Owner/Product Manager, and SAFe System and Solution Architect.
Post-conference workshops provide attendees with the opportunity to take a deep dive into some of the most topical issues relating to the practice of SAFe with the people who created the Framework. Subject areas include: Using DevOps to Improve your Delivery Pipeline, Agile Government Contracting, Portfolio Prioritization, Agile Systems Engineering in SAFe, Troubleshooting SAFe Implementations.
—October 2, Summit Partner Day:
Exclusively for Scaled Agile Partners, this one-day event is dedicated to building success in supporting and deploying SAFe products and services. The agenda features actionable, targeted content designed for Partners to deliver world-class customer results.
—October 3 - 4, Main Conference
The two-day main conference will include industry-leading keynotes, over 45 technical sessions across six tracks, customer success stories, Lightning Talks, and multiple networking opportunities. Attendees will be able to learn new strategies for delivering customer value more effectively, and gain insights into how some of the world's largest enterprises are leveraging SAFe to improve quality, accelerate time-to-market, and increase employee engagement. Tracks cover:

SAFe in Government Programs
SAFe Lean Portfolio Management
Technical Practices
Leadership and Agile HR
SAFe Roles
SAFe Applied
For attendees seeking consulting, training, or platform solutions, Scaled Agile Partners will be exhibiting during the main conference, making this the only venue where an exclusively SAFe-focused audience can engage with vendors specializing in SAFe.
Registration is open at safesummit.com, with super early-bird pricing available until March 27, 2018.
In addition to the 2018 Global SAFe Summit in Washington, DC, Scaled Agile will be hosting the 2018 Regional SAFe Summit, Europe in Frankfurt, Germany June 25 – 28. Expected to draw 400 attendees, the Regional SAFe Summit, Europe will feature content and customer success stories most relevant to SAFe professionals in Europe and surrounding countries.
About Scaled Agile, Inc. (SAI):
Scaled Agile, Inc., is the provider of SAFe®, the world's leading framework for enterprise agility. Through learning and certification, a global partner network, and a growing community of over 200,000 trained professionals, Scaled Agile helps enterprises build better systems, increase employee engagement, and improve business outcomes. Scaled Agile is a contributing member of the Pledge 1% corporate philanthropy and community service movement.
To learn more about the 2018 Global SAFe Summit, visit safesummit.com.
To learn more about the 2018 Regional SAFe Summit, Europe visit europe.safesummit.com.
To learn about Scaled Agile, Inc., visit scaledagile.com.
To learn about SAFe, visit scaledagileframework.com.
Exhibitor Contact (exhibitor space limited to Scaled Agile Partners):
Geoff MacDonald, Partner Marketing Manager
geoff.macdonald@scaledagile.com
Media Contact:
Regina Cleveland, Director of Communications
regina.cleveland@scaledagile.com