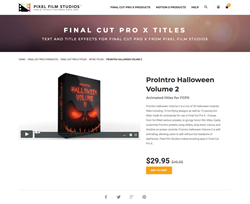 A new spooky-themed animated introduction is now available for FCPX!
ALISO VIEJO, Calif. (PRWEB) March 04, 2018
ProIntro Halloween Volume 2 is a mix of 30 Halloween inspired titles including 15 horrifying designs as well as 15 spooky-fun titles made for exclusively for use in Final Cut Pro X. Choose from fun-filled cartoon presets, to grungy horror film themed titles. Easily customize ProIntro presets using sliders, drop-down menus, and intuitive on-screen controls. ProIntro Halloween Volume 2 is self-animating, allowing users to edit while avoiding the true nightmare of keyframes.
With the incorporation of color wheels, sliders, and on-screen controls, Final Cut Pro X users can easily manipulate the style, scale, as well as orientation of ProIntro Halloween Volume 2 presets to their artistic vision. By making minor layout adjustments or changing the color scheme of a preset will generate entirely new designs. Using ProIntro allows users to cut time editing while still achieving stylish and personalized looks.
Each ProIntro preset features unique texture and background controls that add additional customization effects to the introduction. With texture controls, users can add an intense grunge to create a nightmarish scene. Using the background opacity slider, users can lay ProIntro above pictures & images to create an ominous ghostly vibe. In addition, threshold color controls of the background elements are provided to multiple presets. Collectively, these controls create a completely horrifying atmosphere to any background.
The goal of the ProIntro series will be to efficiently generate spectacular introductions to effortlessly integrate into a user's project. By simply dragging a preset into the timeline above a picture or video file, users can then start crafting their own spectacular effects. Stylizing the scene and changing the text using parameter controls found in the inspector window will add even more customization options. With a few tweaks to the style and feel of the title, watch ProIntro Halloween Volume 2 come to life without having to set a single keyframe.
"By dropping one of the horror-themed presets into my FCPX project I was able to speed up my workflow and get to the true heart of editing my slasher-film!", says video editor Stephen.
Established in 2006, Aliso Viejo, California-based Pixel Film Studios is an innovative developer of visual effects tools for the post-production and broadcast community. Their products are integrated with popular non-linear editing and compositing products from Apple FCPX. Apple, the Apple logo, Mac OS X, and Macintosh are registered trademarks of Apple Inc. in the U.S. and/or other countries. All other trademarks and trade names are the property of their respective owners.