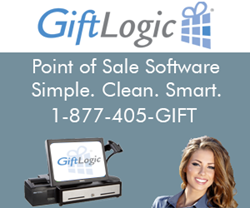 iCMP connects wirelessly to GiftLogic POS via Bluetooth. It fits compactly in a pocket or apron for portability and convenience.
ENGLEWOOD, Fla. (PRWEB) March 03, 2018
GiftLogic POS now offers another option to its retailers, Ingenico iCMP with Vantiv Integrated Payments. Ingenico iCMP is a battery-operated portable Bluetooth device that enables clerks and servers to accept payments at the table, in the aisle, poolside, and other locations away from the main checkout.
According to a spokesperson from GiftLogic, "iCMP connects wirelessly to GiftLogic POS via Bluetooth. It fits compactly in a pocket or apron for portability and convenience."
The Ingenico iCMP device accepts magnetic stripe cards, EMV chip credit cards, and NFC payments as well as integrates with Vantiv payments.
"The device integrates with GiftLogic POS after a slight configuration change," the spokesperson said. "Our support team will walk our customers through the configuration to ensure everything is set up properly."
Once configured, transactions can be completed wirelessly over a Bluetooth connection to GiftLogic. Ingenico iCMP complements other wireless components in a GiftLogic POS environment. For example, clerks can assist customers in store aisles or table side with GiftLogic running on a Surface Pro tablet. After ringing up the order on the tablet, the order can be processed using the Ingenico iCMP handheld credit card reader. A wireless receipt printer could even be added if desired, allowing the clerk to instantly print a paper receipt.
"The ability to accept payments at the true point of sale improves the customer experience," said the spokesperson. "Not only can your sales associates and wait staff be more attentive, equipping them with mobile credit card processing, can speed checkout, bypass long checkout lines, and eliminate the need to take a credit card out of the customer's sight.
Many retailers can benefit from using Ingenico iCMP with Vantiv and GiftLogic including: hairdressers and barbers, restaurants and bars, coffee shops, bakeries, resort snack bars, hardware stores, clothing stores, wellness spas, jewelers, electronics stores, and more.
About GiftLogic
With a focus on "Main Street" merchants, GiftLogic POS is an affordable, intuitive point-of-sale system. Standard features include cash register (POS), inventory management, purchasing tools, customer relationship management, reporting, layaway, gift receipts, gift cards, and more. GiftLogic's add-ons such as consignment, eReceipts, gift registry and time clock extend GiftLogic's functionality to best meet the individual needs of the merchant.