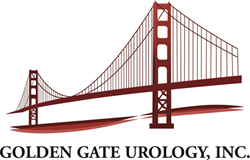 SAN FRANCISCO (PRWEB) March 06, 2018
Golden Gate Urology is pleased to announce the use of an innovative system for men choosing to undergo radiation therapy for prostate cancer. The new addition, SpaceOAR hydrogel, acts as a protective spacer between the prostate and the rectum and has been clinically proven to reduce the risk of side effects from radiation treatment. The hydrogel was adopted two months ago and we have completed 20 applications to date.
Golden Gate Urology, based in San Francisco, CA, is the largest free-standing urology practice in the San Francisco Bay Area. We are committed to offering patients' choices – choice of highly respected physicians and choice of convenient office locations. Our collaborative network model brings together patients, doctors and researchers to deliver the most advanced and innovative urologic care available in Northern California.
"SpaceOAR hydrogel is a significant new advance in radiation and prostate cancer treatment," said Dr. David Kornguth, MD, Radiation Oncologist. "It helps patients with prostate cancer reduce side effects from the course of radiation treatment."
In April 2015, the Food and Drug Administration (FDA) cleared SpaceOAR hydrogel. In a prospective, randomized, multi-center clinical trial in the United States, patients treated with SpaceOAR hydrogel prior to prostate cancer radiation treatment demonstrated bowel, urinary, and sexual benefits through three years of follow-up. The study found that the patients that did not receive SpaceOAR hydrogel experienced a clinically significant decline in bowel, urinary, and sexual quality of life eight times more often than patients that received SpaceOAR hydrogel. It is a minimally invasive outpatient procedure with local or general anesthesia. Patients can immediately resume their normal activities.
"Clinical data shows that SpaceOAR hydrogel helps to significantly reduce the risk of rectal and urinary side effects and loss of sexual function associated with radiation therapy in the treatment of prostate cancer," said Augmenix CEO and President, John Pedersen. "We are excited that Golden Gate Urology has adopted the SpaceOAR System."
For more information, visit GoldenGateUrology.com or SpaceOAR.com.
1) Hamstra DA, Mariados N, Sylvester J, et al. Continued Benefit to Rectal Separation for Prostate Radiation Therapy: Final Results of a Phase III Trial. Int J Radiat Oncol Biol Phys; 2017 Apr 1; 97(5): 976-985
CONTACT:
DR. DAVID KORNGUTH
415-541-0800