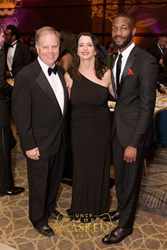 BIRMINGHAM, Ala. (PRWEB) March 01, 2018
The 4th annual United Negro College Fund (UNCF) Birmingham Mayor's Masked Ball raised over $315,000 for HBCU students. The sold-out signature fundraising gala and premiere social event had more than 900 in attendance at the Birmingham Sheraton on Saturday, February 24th. Hosted by Pastor John and Avanter Gray, stars of the OWN Network's hit series, The Book of John Gray, the who's who of Birmingham were in attendance, including Alabama Senator Doug Jones, whom expressed his strong support for UNCF and Historically Black Colleges Universities. (HBCUs) His support is a real turning point and reflects the expanding support of members of the Senate. HBCU alumni Mayor Randall Woodfin (Morehouse College) and state representative Juandalynn Givan (Miles College) brought greetings. UNCF member-institution presidents Dr. Cynthia Warrick (Stillman College), Dr. Billy C. Hawkins (Talladega College), George T. French, Jr. (Miles College) Dr. Leslie Pollard (Oakwood University) and Dr. Charlotte P. Morris (Tuskegee University) were also in attendance.
"We are grateful for the level of support we have received from the citizens of Birmingham, corporate community and community leaders to make our annual ball a tremendous success," said Casi Ferguson, area development director, UNCF. "The funds raised will be most appreciated by the 37 UNCF member colleges and universities, seven of which are right here in Alabama and Mississippi."
UNCF helps to prepare young men and women for the workforce by aiding with textbook purchases and other college costs. Because of the success of the UNCF Masked Ball Birmingham, thousands of students have a brighter future because of the support they have received. More than 600 Alabama and Mississippi students attending UNCF member schools were either able to attend college and/or continue their college education without interruption of financial challenges.
The 2018 UNCF Masked award honorees were William Bell, Sr., former Mayor, city of Birmingham, Alfonso Denson, former president Birmingham Airport Authority and Marcell Dareus, NFL defensive tackle for the Jacksonville Jaguars.
Ball highlights included a performance by Just a Few Cats featuring Alvin Garrett and Logan the Entertainer, VIP Masked Award Reception, Silent Auction, Elegant Dining, Dancing and Live entertainment by Rickey P and Vesper.
The event was made possible through the support of platinum sponsors; Alabama Power, American Cast Iron and Pipe Company (ACIPCO) and the City of Birmingham.
For more information visit http://www.uncf.org/birmingham or call 205-322-8623
About UNCF
UNCF (United Negro College Fund) is the nation's largest and most effective minority education organization. To serve youth, the community and the nation, UNCF supports students' education and development through scholarships and other programs, strengthens its 37-member colleges and universities, and advocates for the importance of minority education and college readiness. UNCF institutions and other historically black colleges and universities are highly effective, awarding nearly 20 percent of African American baccalaureate degrees. UNCF awards more than $100 million in scholarships annually and administers more than 400 programs, including scholarship, internship and fellowship, mentoring, summer enrichment, and curriculum and faculty development programs. Today, UNCF supports more than 60,000 students at more than 1,100 colleges and universities across the country. Its logo features the UNCF torch of leadership in education and its widely recognized motto, "A mind is a terrible thing to waste."® Learn more at UNCF.org, or for continuous updates and news, follow UNCF on Twitter at @UNCF.