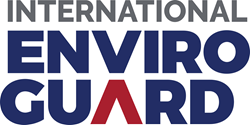 Our new branding and website more fully portray the innovative products we offer, the industries we support, and the value we deliver today.
MESQUITE, Texas (PRWEB) March 02, 2018
"Our new branding and website more fully portray the innovative products we offer, the industries we support, and the value we deliver today," said Aric Asplund, president of International Enviroguard. "With easy navigation and solutions detailed by industry and protection category, the new website helps customers more quickly find the perfect solutions to fit their operation, budget and needs."
International Enviroguard offers disposal garment solutions along with surface protection products for industrial and manufacturing, oil and gas, healthcare, nuclear, environmental remediation, food processing and cleanroom environments. The company's product lines include protection from dust and particles, chemical splashes, sparks and flame, infectious diseases and much more.
The new website makes it easier for safety directors, procurement managers and others to find and order the disposable protective garments they need.
The website and branding also feature a new company tagline, Comfortable Confidence™, a reflection of International Enviroguard's commitment to designing garments that shield workers from pathogens, contaminants and grime while preserving the comfortable dexterity they need to do their job with confidence.
"We use innovative materials that keep workers cool along with thoughtful design and sizing that improve fit and comfort" Asplund said. "Comfortable Confidence reflects our belief that more comfortable products drive higher worker compliance with apparel safety protocols, ultimately leading to better worker protection."
The branding and website will also detail the core goals that drive every decision at International Enviroguard, including:
Creating a more comfortable workday
Comfort matters in the workplace. International Enviroguard uses innovative materials for cool comfort and are produced to ANSI sizing standards with thoughtful design for a better fit, greater mobility and fewer rip-outs.
Providing superior protection
International Enviroguard is the industry's go-to supplier after a natural or man-made crisis. The company's expertise in assessing protective needs then rapidly delivering solutions has kept response teams safe after floods, hurricane cleanups, oil spills and highly infectious disease outbreaks. International Enviroguard's ability to quickly identify and deliver the best protection for the job extends beyond the company's disaster-response work to its entire operation.
Innovating a better experience
International Enviroguard is passionate about safeguarding what matters through innovation. Design thinking, flexible operations and an empowered culture drive the company's team to continually identify and solve new challenges. This includes innovations to create better-fitting garments incorporating cooler fabrics, advanced protection and user-driven product features.
Delivering affordable quality
International Enviroguard's unrelenting focus on the innovation of engineered protection also means the company can deliver superior protection with a lower total use cost. Products with a more comfortable fit, better performance and superior quality can reduce product waste through fewer rip-outs and increase safety through better worker compliance. The result is greater protection and productivity for a lower total investment.
For more information on International Enviroguard's new website, branding and products, visit int-enviroguard.com or contact 1-800-345-5972