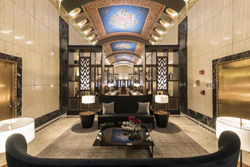 Where Real Estate Is Never Boring!
POMPANO BEACH, Fla. (PRWEB) March 02, 2018
"World's First Art Deco Skyscraper"
The visual style of Art Deco first appeared in France prior to World War I and by 1925 had spread around the world. It was seen in every element of style and design and made a lasting mark on architecture. The popularity of its distinctive clean lines has been undergoing a resurgence such as the redevelopment of South Beach in Miami Beach and now in the former New York Telephone Building, constructed in 1927, the world's first Art Deco skyscraper. Its lobby design is an important example of over-the-top Deco style since the date of its completion and was placed on the National Register of Historic Places in 2009. It was said by historians to be the inspiration for the Empire State Building and Rockefeller Center. Renamed 100 Barclay and many floors repurposed as luxury condominium space, the marvelous lobby has also undergone a facelift. Still attracting filmmakers and new celebrity residents, it now houses one of the city's most glamorous penthouses, accurately described as the Palace in the Sky. At over 14,400 square feet encompassing two floors and a living room longer than an NBA basketball court, it is one of the most expensive listings in the city at $59 million.
The building's restored lobby, looking much like a massive, opulent Mayan temple, is a study in hand-painted murals depicting a timeline of communications throughout history. Beginning with carrier pigeons, it continues with West African drums, Native American smoke signals, an Egyptian megaphone, medieval flag signals, and beyond. Elevators are ensconced in intricate bronze work and building amenities are one of the most extensive in New York consisting of four outdoor terraces, lounge and bar, wine-tasting room and wine storage, bicycle and private storage, large lap pool and children's wading pool, a professional fitness center with steam room and sauna and a large children's playroom. There is also a music practice room, a billiards room and a media lounge.
Encompassing the entire top two floors of the 33-story building, the penthouse measures in at 14,500 square feet that includes a 100-foot by 30-foot living room with 21-foot ceiling, extra-long art wall and stunning chandeliers that illuminate the dramatic arched windows with views of the New York skyline, Statue of Liberty and Hudson River. There are seven bedrooms, ten baths, large kitchen with its luxurious finishes of Calacatta gold marble counters and custom oak cabinets, Gaggenau cooking range, double dishwashers, refrigerators and freezers. It opens to a dining area with a walk-though wine room and lounge with wet bar that has a double-sided gas fireplace. The listing agent is Vickey Barron of Corcoran Group.
One of New York City's most expensive listings is the two-story penthouse in the restored 1927 New York Telephone Building, now known as 100 Barclay, priced at $59 million.
Real estate is never boring at TopTenRealEstateDeals. Check out today's best celebrity, entertaining and unusual real estate news stories of the week.