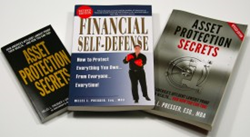 For every 60 minutes you spend making money, spend 60 seconds thinking about how to protect it!
BOCA RATON, Fla. (PRWEB) March 01, 2018
Most individuals know that setting up an estate plan is extremely important, however, not everyone knows how crucial safeguarding the Original Estate Planning documents are. In situations, a copy of the Original document would suffice (such as for setting up a Trust bank account), however, it is prudent to always keep the Original documents (especially the Last Will and Testament) in a safe place because those Original documents may be needed by your Beneficiaries and Agents in the future. Also, in the case of the Last Will and Testament, the Original Last Will and Testament needs to be deposited with the Court upon an individual's passing. If an individual has lost your Original documents, there are options!
1. Estate Planning Defined
Estate Planning is defined as the managing and passing of assets through the preparation of documents and retitling of assets. The major goal of Estate Planning is avoiding Probate (court approved asset distribution). The process of linking Asset Protection with Estate Planning is called integrated Estate Planning and such integrated planning works together to form a comprehensive plan. Every person should have an Estate Plan so that they can control who receives their assets at death. In addition, the Estate Plan also covers an individual should he or she become incapacitated so that a Guardianship Proceeding is not necessary.
2. Where to Store the Original Estate Planning Documents
In some cases, the attorney who prepares the Estate Planning documents keeps the Original documents (with the client's consent of course) while in other cases the Original Estate Planning documents are given to the client. It really depends on the client and what they are comfortable with. The best tips for safeguarding the Original Estate Planning Documents are to have them in a fire proof safe at home, or a safety deposit box at a Financial Institution. Keep in mind, that only the Estate Planning documents, Burial Plots Records and Life Insurance Policies may be removed by your Personal Representative of your Last Will and Testament after death, at least in the State of Florida. Anything else in the safety deposit box may be inventoried (such as diamonds and/or expensive watches), however, may need a Probate Proceeding to allow access for the Personal Representative. Also, it is advisable to tell at least one of your Agents where the documents are (or your Spouse), as the case may be.
3. Lost Original Incapacity Planning Documents (Durable Power of Attorney for Finances and Health Care)
Incapacity Planning documents are those documents which are necessary to have powers over an individual's person and property without the necessity of Guardianship Proceeding. Most financial institutions and medical facilities typically only require copies of these documents, however, if Incapacity Planning documents have been lost, then it would be a good idea to re-execute the documents (with a new effective date) just in case any financial and/or medical institutions require the Originals to authenticate the copies. While this is not the norm, it could always occur due to the ever-increasing internal policies. Also, if the Incapacity Planning documents are old, you satisfy two birds with one stone (making sure that the documents are up-to-date with current law and preparing new Originals).
4. Lost Original Last Will and Testament
A lost Last Will and Testament Original document should absolutely be re-executed! The Last Will and Testament is the only Original document that must be submitted to the Court. The Revocable Living Trust only requires a Notice of Trust to be submitted to the Court, while the Last Will and Testament gets filed and indexed with the State. Therefore, failing to re-execute a new Last Will and Testament could cause major problems for your Personal Representatives, Agents and Beneficiaries.
5. Lost Original Revocable Living Trust
The good news is that re-executing a lost Revocable Living Trust is not always necessary. It is always advised, to the extent possible, that an individual not create a new Revocable Living Trust if a prior Trust already exists. This is because there are certain assets that are funded into the Revocable Living Trust (shortly after execution) and creating a new Revocable Trust would require title to those assets to be transferred to the new Trust (i.e. via assignment and/or transfer deed). Individuals who forget or don't realize this "second funding" event needs to happen may risk having their assets enter probate or be distributed to unintended beneficiaries. An alternative to creating a new Revocable Living Trust, where a copy of the old Trust exists, is to Restate the terms of the Revocable Living Trust. Restating a Revocable Living Trust requires an individual to execute a new Trust document, under the same formalities as the original Trust document, and the terms of said Restated Trust Document will state that the new terms supersede and/or replace any prior terms. In other words, all of the Trust terms are replaced, however, the Titling (or name and date) of the Trust stays the same (as to not trigger a second funding event). In this case, an individual would typically need to know the name of the Trust and which Article of the Trust allows for Amendments/Restatements.
The Presser Law Firm P.A., Asset Protection Attorneys, represents individuals and businesses in connection with the establishment of comprehensive Asset Protection plans that incorporate both domestic and international components.
Visit the Law Firm's Visit the Law Firm's website (http://www.AssetProtectionAttorneys.com) for access to educational material on asset protection, business law, estate planning, and probate including webinars, articles and detailed legal explanations.
Contact The Presser Law Firm, P.A., Asset Protection Attorneys for a Complimentary Preliminary Consultation with one of our attorneys or to receive complimentary copies of our latest best-selling books on Asset Protection.
"For every 60 minutes you spend making money, spend 60 seconds thinking about how to protect it!" states attorney Hillel L. Presser, Esq., MBA regarding the importance of protecting your assets proactively.