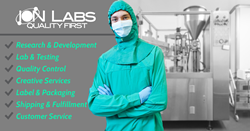 TAMPA, Fla. (PRWEB) March 02, 2018
Ion Labs aims to team up with major brands and companies that are looking to create long lasting business relationships. Ion Labs makes sure every business is prepared to commit to a multi-year quality first experience. They are looking to expand production on a client's current product catalog and continue to help that business with creating new products for their expanding portfolio.
A major effort in assisting clients with more available product capabilities is by incorporating faster machinery to speed up production times. Ion Labs has incorporated the following high-speed production lines to further improve operational capabilities:

8 fully automatic high-speed encapsulation machines
8 high-speed tablet presses
2 high-speed liquid production lines
Ion Labs guarantees three main components to every client: transparency, trust and traceability. Transparency in their operations and communication. Trust in their methodology and experienced staff, and traceability in the high-quality products they develop daily and continue to test for stability year-after-year. When businesses decide to invest in Ion Lab s and become a client, they come on-board with the idea to recreate existing products from their already successful catalog and continue to create new products to build their portfolio.
Private label supplements along with custom supplement manufacturing are available with Ion Labs. Ion Labs has become a key skin care manufacturer by adding several new products to their private label catalog.
About Ion Labs
Ion Labs, Inc. is a contract manufacturer that provides clients with the highest quality products and valued in-house resources in nutrition and health industry. From product development to GMP contract manufacturing to release and shipping, adherence to NSF cGMP compliance in an FDA-registered facility has been our formula for integrity and product fulfillment. Ion Labs specializes in manufacturing dietary supplements, OTC Drugs, pet supplements, and skin care products in the United States of America.