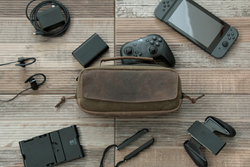 Our passionate gaming customers have inspired us to design five unique Switch cases. Our newest, the SwitchPack, is ideal for single or multiplayer gaming on the go.
SAN FRANCISCO (PRWEB) March 05, 2018
WaterField Designs, the popular San Francisco gaming case and laptop bag maker, announces the new SwitchPack for the Nintendo Switch® to celebrate the 1st year anniversary of Nintendo's popular console. Responding to customer requests, WaterField designed the SwitchPack so players need not worry about losing power in the midst of an intense game; the new Switch case holds a power charger, a thin battery pack and the Switch with Joy-Cons attached so that they stay charged. The handsome Nintendo Switch® case sports double waterproof zippers for easy access to padded pockets for the Switch and a host of supporting accessories, granting gamers the flexibility of single or multiplayer gaming on the go.
"We love how passionate our customers are about the Switch. Their suggestions have inspired us to make five Switch cases geared for different uses," said owner Gary Waterfield. "Our newest, the SwitchPack, is ideal for gamers who want carry several power sources, and it stores the console with Joy-Cons attached - thanks to the many customers who asked for this feature."
The SwitchPack's dual waterproof zippers provide quick access to interior pockets that are soft and adjustable, allowing gamers the flexibility to pack for various play set-ups. These padded pockets hold the Nintendo Switch® console with Joy-Cons attached, a Pro Controller or Joy-Con Grip, Joy-con Straps and a power adapter. The main compartment accommodates extra Joy-Cons or a game card holder and a thin battery. The Switch console pocket is fronted by an extra-slim, Ultrasuede®-lined pocket that can store a few extra games, and actually helps clean the Switch screen.
A full-grain leather flap locks shut with hidden magnets securing a softly-lined pocket for a Hori stand. A rear, zippered pocket keeps assorted items such as cords, ear phones or game cartridges quickly accessible. The new SwitchPack is available in rugged black ballistic nylon or tan waxed canvas with a black or chocolate premium full-grain leather base and flap.
Switch enthusiasts can carry the SwitchPack by its rivet-secured leather carry handle or bag-style with an included shoulder strap that attaches to metal D-rings. WaterField adds the new SwitchPack to its highly-personalized line of Nintendo Switch® accessories: The Switch Pouch for the minimalist gamer, the slightly higher capacity CitySlicker for the single player, the Arcade Gaming Case for single-player arcade-style gaming, and the MultiPlayer Pro Case, for transporting gamers' unique Switch set-ups to social gatherings.
To further celebrate the 1st anniversary of the Switch, WaterField also annoucnes a Limited Edition CitySlicker, a retro version of the company's popular everyday carry for the Nintendo Switch. Available until March 31, this gray waxed canvas and red premium leather Retro CitySlicker pays homage to Nintendo's initial gaming console by incorporating its original colors.
Availability & Pricing
SwitchPack for the Nintendo Switch:
Price-$129.
Colors: Black ballistic nylon with black or chocolate full-grain leather base and flap. Tan waxed canvas with full-grain, chocolate leather base and flap.
Weight and dimensions: 11 oz; 9 x 5 x 2.75 inches
Pre-order now. First production run ships March 15.
Limited Edition Retro CitySlicker:
Price-$79.
Colors: Gray waxed canvas with a red, full-grain leather flap.
Also for the Nintendo Switch:
Switch Pouch-$49. (All-leather version-$89.)
CitySlicker-$79.
Arcade Gaming Case-$109.
Nintendo Switch Multiplayer Pro-$149.
About WaterField Designs
WaterField Designs is an innovative San Francisco designer and manufacturer of bags and cases for tech-savvy consumers who want to stylishly and responsibly transport their technology. WaterField manufactures custom-fitted, high-quality cases and bags for a full-range of laptop computers, smartphones, tablets, gaming devices and other digital gear. All products are manufactured to exacting standards entirely in San Francisco. More information is available at the company website under "Our Story."
WaterField Designs, SwitchPack, CitySlicker, Switch Multiplayer Pro Case, Arcade Gaming Case, and SFBags are trademarks of WaterField Designs. Other company and product names may be trademarks of their respective owners. © 2018