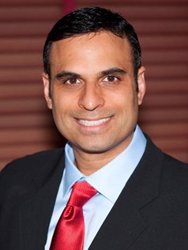 DOWNERS GROVE, Ill. (PRWEB) March 06, 2018
Dr. Amarik Singh is inviting patients from Downers Grove, IL, including those without referrals, to make an appointment to talk about dental implants and other customized solutions to address their periodontal issues. Recognized by The Consumers Research Council of America as a Top Periodontist in America each year since 2009, Dr. Singh has amassed a reputation among his peers as a well-respected dental professional.
Since opening practice in Oakbrook Terrace, IL, Dr. Singh has placed more than 15,000 dental implants and continues to be a huge proponent of this leading, long-term solution to tooth loss. Without intervention, the site of a missing tooth begins to reabsorb bone tissue, leading to a host of possible medical and aesthetic problems. By placing a dental implant into the gap, the bone can recover from the trauma of tooth loss, and the gums can resume their natural job of protection. When placed by a trained professional like Dr. Singh, dental implants can last for 20 years or longer.
Even patients who have suffered bone loss may be able to receive the benefits of dental implants under Dr. Singh's care. He regularly performs highly exacting bone grafting treatments to build up hard tissues before dental implant post placement. To assist him, Dr. Singh utilizes a variety of innovative, revolutionary tools and software programs. He also offers a range of sedation dentistry options for individuals who experience dental anxiety.
Patients with damaged or missing teeth in Downers Grove, IL, who are interested in learning more about periodontal treatments including tooth extractions, bone grafting, and dental implants can visit http://www.pidentists.com. Those interested in scheduling an initial examination at his practice in Oakbrook Terrace, Periodontal Implant Associates, can call 630-424-9404.
About the Periodontist
Periodontal Implant Associates is a periodontal practice offering personalized dental care for patients in Oak Brook, IL and the Chicago area. After graduating from Northwestern University Dental School, Dr. Amarik Singh went on to obtain his Specialty Certificate in Periodontics and earn his Master's from Northwestern University. Dr. Singh is deeply committed to continuing education and prides himself on remaining on the cutting-edge of the newest techniques and technology in dentistry. Dr. Singh has placed over 15,000 dental implants using minimally invasive techniques and is part of an elite group of dental professionals at the forefront of the Chao Pinhole® Surgical Technique (PST™), a revolutionary new approach to repairing gum recession. To learn more about the periodontal services available at Periodontal Implant Associates, please visit http://www.pidentists.com or call 630-424-9404.