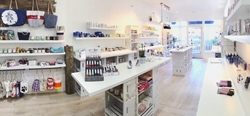 Whether settling poolside or landing coastal, spring breakers should include items that will carry them from beach to bar to bed and back, seven times over.
LA JOLLA, Calif. (PRWEB) March 01, 2018
With Spring Break just around the corner, spring breakers nationwide are picking up their last few traveling essentials. Whether settling poolside or landing coastal, they'll need to include items that will carry them from beach to bar to bed and back, seven times over!
SeaMakers & Co. is a Clean Beauty and Lifestyle boutique in La Jolla, CA that carries the best in US-made, organic, toxin- and cruelty-free beauty brands. 
Listed below is owner, Mary Beltrante's, top picks for beauty bag essentials this season:
Sea Bags - Handmade in Portland, Maine from recycled sailcloth, these fun, carryon, one-of-a-kind totes comply with TSA regulations and will fit all travel essentials (From $150)
 
Wander Wet Bags - A waterproof inner lining and zip closure make for the perfect wet or dry swimsuit carriers or for use as a toiletry bag. These easy-to-pack bags are CA-made and are wonderful accessories for any tropical vacation. ($32-36)         
 
Fair Seas Towels - These towels are created from the highest quality 100% organic Turkish cotton. Available in peach, teal, and white, they make a wonderful beach or bath towel, but also serve as a sarong to cover up at the beach or a scarf for chilly spring evenings. ($128)
 
Captain Blankenship Dry Shampoo - A powder dry shampoo made from white clay, rice, and arrowroot powder. It can be applied with hands and then massaged into roots or a hair dryer. ($24)
 
Rahua Shampoo & Conditioner- Derived sustainably from the Amazon Rainforest, Rahua shampoo and conditioner products are extremely nourishing for the scalp and hair. Infused with coconut oil to cleanse without stripping hair of its natural nutrients, this shampoo and conditioner pair is safe for all hair, including color treated hair. (Shampoo $9.00 Conditioner $9.50)
 
Noniko Deodorant - This all-natural, aluminum- and paraben-free deodorant uses essential oils of lavender, rosemary, peppermint, and grapefruiand is ideal for both men and women. It provides a clean, fresh scent all day long and allows skin to flush out toxins without clogging pores. ($14.99)
 
Suntegrity Face Sunscreen -The best way to moisturize, treat, protect, prime, and cover the skin in one step. SPF 30 gently shields skin from the sun and is partnered with anti-aging antioxidants and hyaluronic acid to provide a radiant appearance throughout the day. ($45)
Suntergity Staycation Bronzer - An eco-friendly safe alternative to tanning beds is Suntegrity's Bronzing serum. It is a streak- free, plant-based serum that is safe for both the face and body and gives the illusion of a summer tan all year round. ($54)
 
Osea Ocean Cleanser - A luxurious combination of seaweed, algae, and vegan lactic acid from the sea of patagonia blend together to exfoliate, hydrate, and cleanse the skin. The smooth, calming gel is suitable for all skin types and is available in travel size to pack safely in any carry-on or suitcase. ($16)
 
Herbivore After Sun - This therapeutic mist is an absolute essential for any traveler. After Sun is an excellent treatment for skin that has been exposed to a full day of sun. Calming ingredients including aloe, lavender, and peppermint essential oils that work together to treat sunburns and sooth irritated skin. ($20)
 
Cocovít Coconut Hydro-Mist- Minimize pores and give skin an instant glowing hydration boost with this coconut-based mister. In a travel size bottle, it can easily be thrown into a beach bag for a day out on the sand or a carry-on for travel. ($16)
  
About SeaMakers & Co.
SeaMakers & Co. is a clean beauty and sustainable lifestyle store located in La Jolla, California. The company carries the absolute best in clean beauty and lifestyle accessories that are all, without exception, made in the USA and cruelty-free. 
For more information, please visit seamakersco.com or follow seamakersco on Instagram, Facebook and Twitter.
SeaMakers & Co.
7660 Fay Avenue, Suite J
La Jolla, CA 92037
http://www.seamakersco.com
info@seamakersco.com
Tel: 858-412-4269