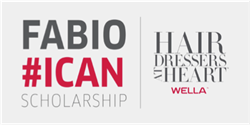 "The Fabio #ICAN Scholarship embodies Fabio's unwavering commitment to empowering and mentoring stylists," said Sal Mauceri, Senior Vice President North American Coty Professional Beauty and Global OPI. "We are pleased to help these talented stylists launch their career through this scholarship."
WOODLAND HILLS, Calif. (PRWEB) March 02, 2018
Wella's Hairdressers at Heart is pleased to announce the recipients of the first Fabio #ICAN Scholarship – Tanya Choe, Nick Themistocleous and Dorothy Wrightsman. The inaugural scholarship, honoring the globally recognized hairdresser and industry icon, Fabio Sementilli, offers Tanya, Nick and Dorothy the unique opportunity to advance their professional career through exclusive mentorship and training for one of the industry's most prestigious hair competitions – the 2018 North American TrendVision Awards.
"Fabio championed tangible support for hairdressers through educational programs and initiatives, and was steadfast in his commitment to mentoring the next generation of professionals," said Sally Schoen, Vice President North American Education at Coty Professional Beauty. "We are proud to not only honor his legacy, but also uphold his passion for education by awarding these talented stylists the first #ICAN scholarship."
Winners were selected based on their creative skills, professional experience and video submission detailing how the scholarship would impact them personally or professionally. The Fabio #ICAN Scholarship winners are:

Through the #ICAN Scholarship, Tanya, Nick and Dorothy will attend Wella's TrendVision 2018 Editorial Seminar at either the Los Angeles or New York City Wella Studio, to learn how trends relate to architecture, design, makeup and fashion, and how the elements of design correspond to the world of photography. They'll also receive automatic entry into the 2018 North American TrendVision Awards, and gain invaluable tips and competition secrets from the pros.
"The Fabio #ICAN Scholarship embodies Fabio's unwavering commitment to empowering and mentoring stylists at every stage of their career," said Sal Mauceri, Senior Vice President North American Coty Professional Beauty and Global OPI. "Wella's Hairdressers at Heart is pleased to help these talented stylists launch their career through this namesake scholarship."
For more information about Hairdressers at Heart or the Fabio #ICAN Scholarship, please visit: https://www.wellaed.com/fabio-ican-scholarship/.
About Hairdressers at Heart
Stylists are committed to being the best, perfecting their craft with every cut. Wella is here to advance the salon industry, one stylist at a time. Hairdressers at Heart is a program created to help stylists develop their talents throughout their career. Our goal is to be a vital partner to salons, empowering individual stylists and our entire industry. For more information: https://www.wellaed.com/hairdressers-at-heart/.
About Coty, Inc.
Coty is one of the world's largest beauty companies with approximately $9 billion in revenue, with a purpose to celebrate and liberate the diversity of consumers' beauty. Its strong entrepreneurial heritage has created an iconic portfolio of leading beauty brands. Coty is the global leader in fragrance, a strong number two in professional salon hair color & styling, and number three in color cosmetics. Coty operates three divisions – Coty Consumer Beauty, which is focused on color cosmetics, retail hair coloring and styling products, body care and mass fragrances sold primarily in the mass retail channels with brands such as COVERGIRL, Max Factor and Rimmel; Coty Luxury, which is focused on prestige fragrances and skincare with brands such as Calvin Klein, Marc Jacobs, Hugo Boss, Gucci and philosophy; and Coty Professional Beauty, which is focused on servicing salon owners and professionals in both hair and nail, with brands such as Wella Professionals, Sebastian Professional, and OPI. Coty has approximately 20,000 colleagues globally and its products are sold in over 130 countries. Coty and its brands are committed to a range of social causes as well as seeking to minimize its impact on the environment. For additional information about Coty Inc., please visit http://www.coty.com/.