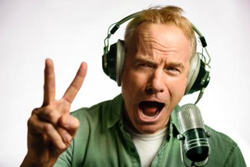 "Jim Meskimen... is as brilliant as Robin Williams ever was." –Joe Piscopo
LOS ANGELES (PRWEB) March 05, 2018
Dubbed "The World's Greatest Impressionist" by the Australian Today Show, actor and voice talent Jim Meskimen gained fans from his appearances on America's Got Talent and The View, as well as from his portrayal of George Washington in that funny Geico ad, crossing the Delaware Expressway ("We've all got places to go!") He stands to gain more fans from his starring role in IMPRESS ME, a TV series that reveals what the life of celebrity impressionists are REALLY like. The punchline? It's completely original… and hilarious.
"I've been trying to be taken seriously as an actor my whole career," says Meskimen, (the son of actress Marion Ross, "Mrs. C" of Happy Days). "But I generally only get attention with my impressions. When Ross Marquand (The Walking Dead) and I met with writer/director Ben Shelton, he took our stories and turned them into a show about two guys who create their own 12-Step Program to quit impressions."
The show features Meskimen and Marquand along with a cast of other talented actor/impressionists, (Dana DeLorenzo of Ash vs Evil Dead, Piotr Michael of MAD TV) and explores their personal lives and careers, doing spot-on celebrity voices for film, TV and video games and even interviews for celebs who just can't be bothered. Guest stars include Angela Kinsey, "Weird Al" Yankovic, Josh Groban, Kevin Pollak, Camryn Manheim, Brandon Routh, Erika Christensen and Beth Reisgraf.
Written and directed by Ben Shelton, IMPRESS ME is about more than celebrity impressionists. It is about how hard (and hilarious) it can be to follow your heart, especially when the odds are stacked against you.
IMPRESS ME was produced by SoulPancake, the media and production company founded by Rainn Wilson, now a division of Participant Media. The thirteen episodes of Season One became available to stream on SoulPancake's Amazon Prime channel on March 1st.
For Meskimen, this will either be the big acting break he's been waiting for, or another indication that he just needs… to do more impressions.