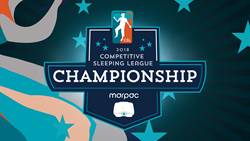 New York, NY (PRWEB) March 02, 2018
CollegeHumor, the No. 1 most-viewed comedy channel on YouTube, today announced an agreement with the Competitive Sleeping League (CSL) to exclusively livestream the 2018 Competitive Sleeping League Championship, presented by sleep tools brand Marpac. The dreamy four-hour extravaganza will emanate from the 46,000-seat Marpac Slumberdome in Carson City, Nevada and livestream on Facebook.com/CollegeHumor starting March 3, 2018 at 10:00 p.m.
Created in partnership with Marpac's creative and media agency McKinney, the championship event is expected to draw the most seasoned sleeping competitors from around the globe. Audience members will witness the culmination of a lifetime of disciplined training, as the elite challengers attempt to toss and turn their way to glory. Replays and highlights of the event will also be made available on CollegeHumor's social media channels (Twitter, Facebook) and on YouTube.com/CollegeHumor starting March 6, 2018.
The announcement is an exciting forray for CollegeHumor, a brand known for being at the forefront of innovative brand partnerships.
"We know what our young, discerning audience loves, and that's high-stakes sporting events," said Thom Woodley, Executive Creative Director and Head of Branded Content at CollegeHumor. "But even more than that, they love sleep. So when we got the opportunity to partner with the CSL, we thought it was the perfect fusion. We didn't even need to sleep on it!"
"The Competitive Sleeping League Championship is such a perfect platform for Marpac to show the world how easy sleep can be with our products, it's almost like I'm dreaming. Wait, is this even real?" wondered Jimmy Sloan, co-owner of of Marpac. "We're pleased that all the best sleepletes have, for years, relied on Marpac products to sleep through noises the average sleeper just cannot, and should not, believe."
ABOUT THE COMPETITIVE SLEEPING LEAGUE
From humble beginnings as the California Sleeping Club, the Competitive Sleeping League became an official professional sport in 1998 after rapid and exhaustive growth. As the sport grew internationally the CSL championship became the leading REM-focused (Rapid Eye Movement) sporting event, watched by millions of lucid dreamers worldwide. The league is committed to fair competition and fabulous bedhead.
ABOUT COLLEGEHUMOR
CollegeHumor is the #1 destination for the most gut-busting, side-splitting comedy on the internet. Spanning award-winning sketches, animations, comics, articles, music, and more, CollegeHumor delivers 24/7 content from today's hottest rising stars, curated by a staff of comedy diehards. What started in a dorm room celebrating college life and early adulthood, is now the preeminent digital comedy brand. CollegeHumor doesn't just reflect the cultural zeitgeist. CollegeHumor creates it.
ABOUT MARPAC
We created the original white noise machine in 1962 and have been helping people give sleep a chance ever since. Marpac has grown over the decades to provide tools for sleep that work as if they are magic - and we pair that with ridiculous customer service.
Marpac provides the best tools for sleep - all-natural, out-like-a-light sleep. Marpac sound machines include the Marpac Dohm Basic, Marpac Dohm Classic, Marpac Whish and the Marpac Dohm white noise machines, and portable sound machines: the Marpac Hushh and Marpac Rohm. Marpac Yogabed is a leading direct-to-consumer mattress and bedding brand. For more information about the official Marpac gear of the CSL, please visit Marpac.com. Give Sleep a Chance!