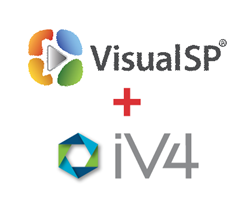 Adding VisualSP to our portfolio fits so well into our strategy. - Jeanne Morelli, VP of Operations at iV4.
CHICAGO (PRWEB) March 06, 2018
iV4 is a Microsoft Gold Partner and was named in Redmond Partner Channel Magazine's list of Top 200 Microsoft Solution Providers of 2017. iV4 has also been the Microsoft Northeast Cloud Partner of the Year for Small and Mid-Sized Business for two years in a row. Combined with iV4's superior security managed services, these recognitions solidify iV4's partner performance and commitment to delivering Microsoft solutions with a focus on security practices.
"Adding VisualSP to our portfolio fits so well into our strategy. It is our goal to ensure compliance and security for our clients' data as they move to hybrid and cloud solutions, while still enabling end users to improve their overall efficiency. Deploying new solutions doesn't need to disrupt operations; we just need to give users the right tools," says Jeanne Morelli, VP of Operations at iV4.
"Our partner portfolio is expanding every year. With iV4 in the fold, we look forward to another successful collaboration", says Asif Rehmani, the founder and CEO of VisualSP.
Security still remains a great concern for many organizations. It proves essential to deploy the right solutions and the right on boarding training if peace of mind is of interest. With solutions from a leader in Office 365 security and a leader in end-user support, companies may be able to build dependable shields that guard their digital assets against cyber threats.
"After opting for a security solution, usually, most companies conduct training sessions to help end-users learn how to use the tools included in that solution. But, this approach rarely produces sustainable learning results; end-users tend to forget most of what they learn in a training session", says Rehmani. "To solve this problem, VisualSP provides them with contextual help exactly at the moment of completing a security related task". You can see VisualSP in action at https://www.visualsp.com/.
Using VisualSP is like having a helper that is always available every time you ask "how do I use SharePoint?"
With an always accessible contextual help tab present on every page of every Office 365 application, users don't need to remember what they've learned in a training session, they just need to click on the tab and open a tip-sheet, an annotated screenshot, a screen-capture video, or a step-by-step walk-thru that can guide them through the process of completing a security task.
Rehmani gives a familiar example: "a common security task is to change a password regularly. To remind users to do it and show them how to do it, VisualSP Help System can be configured to automatically pop-up a walk-thru bubble with a link to a page where the task can be performed. Additional walk-thru bubbles guide the user through the entire process. The pop-up can be made to appear every month, ever quarter, or every year".
In addition to guiding users through the security, governance, and compliance processes built by iV4, VisualSP shows them how to actually use SharePoint and Office 365, reducing the support burden on IT teams. With such an interactive learning system, mastery of the platforms can be easily attained.
You can find more about security solutions at iv4.com. To speak to the VisualSP team about the on-demand, in-context help capabilities and benefits, call 630-786-7026 or contact sales(at)visualsp(dot)com.
About iV4
iV4 is an award-winning information technology Consulting, Managed IT Solutions, Security, and Cloud company with a demonstrated ability to deliver technology solutions that fully meet our client's needs in a dynamically changing business environment. We're in the business of serving businesses through technology. For more information, visit http://www.iv4.com.