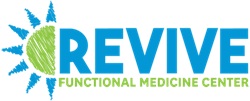 "People have far more control over their health than they have been led to believe. The body was designed to heal itself if provided the correct materials," Dr. Bill Blueter said.
RAVENNA, Ohio (PRWEB) April 11, 2018
For over a year, the trained staff at Revive Functional Medicine Center has provided patients with individualized functional medicine, chiropractic, acupuncture and overall health and wellness services. Now, they are offering educational dinner seminars open to the public to support increased wellness in the community.
Founding practitioner Dr. Bill Blueter, DC, FIAMA and his team treat underlying conditions with state-of-the-art diagnostics and an approach focusing on lifestyle behaviors, environmental factors, hormone imbalances, and nutrition.
A 2015 study revealed that these types of integrated and functional techniques were effective in reducing symptoms of fatigue, stress, inflammation, and digestive problems. Even better, study participants reported an overall increase in vitality and reduction in confusion. Through numerous scientific studies and copious analyses, functional medicine has earned its right to stand alongside standard Western medicinal techniques as an effective way to treat chronic illness and mental disorders.
Revive Functional Medicine Clinic recently celebrated the one-year anniversary of their very first class teaching potential patients the benefits of functional medicine and patient-centered healthcare. With a wealth of testimonials highlighting the effectiveness of their approach, Revive Functional Medicine Clinic hopes to ring in their second year with an expanding customer base with a greater awareness of functional medicine's many benefits.
Part of Revive's drive to increase awareness of functional medicine and its benefits includes two exclusive free dinner seminars in April. On April 26 and May 9 at 6:00pm at the Kent State University Hotel & Conference Center, Dr. Blueter and his team will be holding a comprehensive discussion on how hormone imbalances can impact everything from how well you sleep to how efficiently your body processes carbs and fat.
"People have far more control over their health than they have been led to believe. The body was designed to heal itself if provided the correct materials," said Revive Functional Medicine Owner Dr. Bill Blueter.
By doing away with the common disease-centered approach to healthcare, Dr. Blueter and his team can create individualized programs beginning with a detailed look at a patient's health history, including a genetic analysis to discover the root causes of their health issue. A specific plan of action is then implemented, one that encompasses the assistance of a certified exercise physiologist, a holistic psychotherapist, and even a patient's primary care physician. Eliminating a reliance on medication and addressing a wide range of ailments, from stress to hormone imbalances, weight management, diabetes, digestive disorders and heart health stands at the core of what Revive Functional Medicine offers.
For more information on how Revive Functional Medicine Center helps patient's reclaim their health and achieve an optimal level of weight and wellness, visit their website at http://revivefmc.com. To claim a space for you and a guest at April's free dinner seminars before seats fill up, call 330-541-6378 or reach out to office(at)revivemc(dot)com.
About Revive Functional Medicine Center:
Revive Functional Medicine Center stands at the forefront of natural, functional medicinal treatments for a wide array of chronic conditions. Utilizing personalized wellness programs focused on results without unwanted side-effects, Dr. Blueter and his team offer Ohio residents another way to safely diagnose and effectively treat many modern ailments. For more information, call (330) 360-0028.