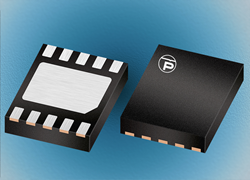 The PLR2504 provides unidirectional configuration and is rated at 300 watts peak pulse current.
TEMPE, Ariz. (PRWEB) March 05, 2018
ProTek Devices has introduced a new ultra-low capacitance (4pF) steering diode / transient voltage suppressor array for circuit protection in various networking applications. Networking application coverage includes Gigabit Ethernet, T1/E1 and T3/E3 (chip-side), and wireless communications. The new device is also suited for USB and DVI interfaces.
This steering diode / TVS array, the PLR2504, provides unidirectional configuration and is rated at 300 watts peak pulse current (8/20 micro seconds wave shape). ESD protection is > 25 kilovolts and the component also provides a very low clamping voltage (VC max 12V @ 25A, 8/20 micro seconds). It protects four I/O ports and a power supply. The PLR2504 is compatible with IEC standards 61000-4-2 (ESD): air ±15kV, contact ±8kV; with 61000-4-4 (EFT): 40A - 5/50ns; and with 61000-4-5 (surge). And, it is RoHS and REACH compliant. Also, at higher operating frequencies or faster edge rates, insertion loss and signal integrity are a major concern. This device, in conjunction with passive components integrated into a TVS / filter network, can be used for EMI / RFI protection in this scenario.
Mechanical, Packaging and Availability Information
The PLR2504 is now available and is provided in a molded JEDEC DFN-10 package with an approximate weight of only seven milligrams. Other key mechanical characteristics include lead-free pure-tin plating (annealed) and a solder reflow temperature of (pure-tin - Sn, 100) 260 to 270 degrees Celsius. The PLR2504 has a flammability rating of UL 94V-0. It is delivered on 8mm tape and reel, per EIA standard 481, in minimum quantities of 3,000. Pricing information and purchasing details can be had by contacting any authorized distributor, representative, or directly with ProTek Devices. The company's distributor and representative channels are available in the USA, Europe, Asia, Latin America and more. Full contact information for all worldwide regions can be found at the company website.
About ProTek Devices
In business 25 years, ProTek Devices™ is a privately held semiconductor company. The company offers a product line of overvoltage protection components and overcurrent protection components. These include transient voltage suppressor products (TVS arrays), avalanche breakdown diodes, steering diode TVS arrays, PPTC devices, and electronic SMD chip fuses. These components deliver circuit protection in various electronic systems against lightning; electrostatic discharge (ESD); nuclear electromagnetic pulses (NEMP); inductive switching; and electromagnetic interference / radio frequency interference (EMI / RFI). The company maintains its headquarters in Tempe, Ariz. More information is available at http://www.protekdevices.com.
Note: Whether noted or not, references to certain words or names may be trademarks or registered trademarks of their respective owners.
###