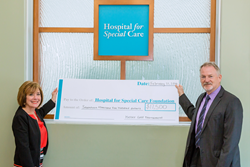 With Kelser Corporation's support and generosity, we will be able to make significant strides in advancing the development of the Center for Memory Disorders.
NEW BRITAIN, Conn. (PRWEB) March 06, 2018
Kelser Corporation President and CEO Barry Kelly presented a check for $17,500 to Hospital for Special Care President and CEO Lynn Ricci on behalf of the Kelser Foundation and participants and sponsors of the Kelser Charity Challenge.
The golf tournament held last fall at Indian Hill Country Club in Newington, fundraised for a new center for memory disorders at the New Britain-based Hospital. Donations continued to come in over the months following the tournament, so the funds were finally totaled and delivered this month.
"With Kelser Corporation's support and generosity, we will be able to make significant strides in advancing the development of the Center for Memory Disorders," said Lynn Ricci, FACHE. "Our team of neuropsychologists is developing a comprehensive protocol that incorporates the most effective evaluation and treatment techniques and will help to enhance community resources for patients with Alzheimer's, dementia and other neurocognitive disorders."
The Center for Memory Disorders will provide neuropsychological evaluations to offer differential diagnosis of neurocognitive disorders such as Alzheimer's and dementia and help individuals and families distinguish between these disorders and the normal aging process. The center will expand resources to provide treatment for behavioral and cognitive difficulties, helping individuals and their families adjust after a diagnosis of dementia.
"The work Hospital for Special Care does to treat unusual and difficult cases is just phenomenal and inspirational," says Kelly. "All of us at Kelser truly admire their unique approach to medicine and are thrilled that we can help expand their work with patients experiencing memory disorders."
Kelly's brother Bruce founded Kelser and is currently living with Alzheimer's. Several other members of the Glastonbury technology consulting firm's team have loved ones affected by the disease.
The 2018 Kelser Charity Challenge will take place on September 18 at Indian Hill and continue to support the Hospital for Special Care's Center for Memory Disorders. For information about sponsorships or to be notified when registration is open, contact Lisa Carroll lcarroll(at)kelsercorp(dot)com or (860) 610-2220.
About Kelser Corporation and the Kelser Foundation
Since 1981, Kelser Corporation has helped organizations achieve their goals through technology. Based in Glastonbury, Kelser is proud to assist a wide variety of organizations in the Northeast—including some of the largest companies in Connecticut—in using technology to move their businesses forward. Kelser's experienced team of technology consultants understand their clients' businesses as deeply as the products and services Kelser provides. The result is technology that works on behalf of businesses, not the other way around.
Kelser is extremely active in volunteering and philanthropic activities contributing more than $900,000 and countless food items, man hours, and articles of clothing to those in need over the years. In 2011, the Kelser Foundation was created to expand and formalize these service efforts. In addition to the Kelser Charity Challenge, Kelser is the 2018 presenting sponsor of Manchester Community College's Evening of Fine Wines and a sponsor of the Travelers Championship for the past 25 years, among many other events and initiatives.
More information: https://www.kelsercorp.com/kelser-foundation/
About Hospital for Special Care
Hospital for Special Care (HSC) is the fourth largest, free-standing long-term acute care hospital in the U.S. and the only one in the nation serving adults and children. HSC is recognized for advanced care and rehabilitation in pulmonary care, acquired brain injury, medically-complex pediatrics, neuromuscular disorders including ALS research, spinal cord injury, comprehensive heart failure and comprehensive inpatient and outpatient treatment for children and adolescents with autism spectrum disorder.
Located in New Britain and Hartford, CT, HSC operates inpatient and outpatient facilities serving Southern New England and the Tri-State area on a not-for-profit basis.
More information: http://hfsc.org/