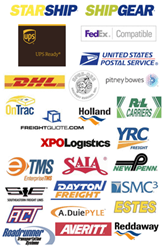 "Visit V-Technologies, LLC at the Macola Evolve 2018 to learn how Macola customers streamline shipping operations with efficient shipping processing, integration to accounts receivable and customer service for improved productivity and cost savings." – Caroline Rua, VP of Sales and Marketing
CHESHIRE, Conn. (PRWEB) March 06, 2018
Leading integrated Macola shipping software provider, V-Technologies, LLC announces Macola Evolve sponsorship in Chicago, IL, April 3 - 5, 2018, 2018.
V-Technologies, LLC is exhibiting in booth #13 at Macola Evolve 2018. Macola Evolve is a great opportunity to network with Macola consultants, learn about the latest release of Macola and tools available to enhance Macola. Meet with V-Technologies, LLC to learn how StarShip shipping software for Macola combines parcel and freight carriers into one user interface. The bi-directional interface streamlines the entire workflow to gain immediate efficiencies in shipment processing, accounts receivable and customer service.
A few highlights:

USPS discounted rates
LTL carrier integration
Canadian Origin
Expanded list of eCommerce interfaces
About V-Technologies, LLC:
Founded in 1987, V-Technologies is a shipping software development company who offers a selection of solutions to meet the growing demand for integrated shipping. StarShip and ShipGear are the two flagship shipping software products. V-Technologies develops interfaces with Sage Software's Sage 100, Sage 500, Sage 50, Sage X3, Microsoft Dynamics GP, Acumatica, QuickBooks, Macola, Fishbowl, Amazon, eBay, Magento, WooCommerce, Shopify.
V-Technologies has partnerships with other supply chain management solutions such as EDI integration with TrueCommerce, SWK's MAPADOC, Edisoft and SPS Commerce along with popular barcoding solutions such as Scanco, ScanForce and Panatrack. Additional information about V-Technologies and its solutions is available at http://www.vtechnologies.com